It's no secret that air fryers have become increasingly popular in recent years. They are a healthier way to cook, and they can be very versatile.
You can a number of quality air fryers under $100 with different features, sizes and capacities. I've listed below all the air fryers commonly found under $100, however, keep in mind that around Black Friday in November you may be able to find more air fryers for a cheaper price point.
Sadly, you might have to sacrifice a couple of things when purchasing an air fryer for $50 or less. These include; the size of the appliance as a whole, the brand, the number of features, and the variety available.
However, if you're happy with these sacrifices and instead want to focus on price then here are my favourite air fryers for $100 or less
GoWISE USA 1700-Watt 5.8 QT 8-in-1 Digital Air Fryer
The GoWISE USA 1700-watt 5.8 QT 8-in-1 digital air fryer is the best value for an air fryer overall, and you will not have to worry when using it. This technologically advanced air fryer is almost too good to be under $100, and here's why.
This digital air fryer comes with eight preset settings allowing you to cook with ease. The digital touch screen makes it incredibly easy to navigate, and it also comes with an app that includes recipes you can use in your air fryer.
Some of the features included in this air fryer include:
180 to 400-degree temperature range
30-minute cooking timer
5.8-quart capacity
Detachable basket with a cool-touch handle
FDA certified and PFOA-free (Perfluorooctanoic Acid-free) pan
Popular "shake" reminder
Overall, this air fryer is hard to beat based on its size as well as several modern technologies you are getting when you choose it. The size itself makes it worth it simply due to the larger capacity of food you will be able to cook.
In addition, the preset cooking settings take away the worry of both over and undercooking your meals.
The GoWISE USA 1700-Watt 5.8 QT 8-in-1 Digital air fryer is reliable, technologically advanced, and something you know will be worth the purchase.
Ninja AF101 Air Fryer
The Ninja AF101 Air Fryer that cooks, crisps, and dehydrates with a four-quart capacity is a fantastic quality air fryer that will be able to help you accomplish several different types of tasks in your kitchen.
This versatile air fryer is top-rated and comes with several different features that are user-friendly and made for ease of use.
The main unit of the Ninja AF101 air fryer has four programmable cooking functions with a control panel that's easy to use. It also has a countdown timer built into the control panel.
This air fryer has several other features, including:
105 to 400-degrees Fahrenheit heat range
Four-quart ceramic coated non-stick basket that can hold two pounds of french fries
Dehydration setting for homemade dried food snacks
Dishwasher safe parts including a basket, crisper plate, and multi-layer rack.
Compact air fryer for smaller countertops, only weighing about five pounds
This air fryer is a bit smaller. However, it makes up for it with the technology and the ability to do several other tasks in addition to being able to air fry.
The ability to dehydrate as well as cook food is really what sets this air fryer apart from other models and why it makes it so worth the purchase.
Overall, the Ninja AF101 Air fryer is the best for something that is compact and for someone who needs several different tools in one unit. This air fryer would be perfect for those who live in smaller spaces, have smaller kitchens, or simply don't need a large air fryer.
Ultrean Air Fryer
The Ultrean Air fryer is a 4.2-quart electric hot air fryer that is a multifunctional cooker with several different settings. This air fryer is extremely dynamic, and all in one machine allows you to bake, cook, grill and roast your food.
For an air fryer on the smaller end, the Ultrean Air Fryer can do just as much as most high-end air fryers on the market.
This air fryer:
Cooks your food evenly
Heats up quickly
Has several preset cooking options,
The features on this air fryer are too good to beat and are all designed to give you the easiest experience possible.
More features on the Ultrean Air Fryer include:
180 to 400-degrees Fahrenheit temperature settings
4.2-quart capacity
Automatic zero to thirty-minute timer
Detachable and dishwasher safe basket
Heat-resistant handle
LCD display that's easy to navigate and control your air fryer through
Non-stick pan
A downside to this air fryer is that it does not have a pre-automated cooking setting which means you have to set everything up manually.
They do make this process easier by adding a cookbook with instructions that detail how to cook many different foods in this specific air fryer.
This air fryer is highly rated and loved amongst its users. While this air fryer is smaller, it is known to work just as well as name-brand air fryers as well as has the ability to cook just about anything. This would be a great option for someone who isn't cooking for many people or has a small kitchen space but still wants the same functionality.
The best part about the Ultrean Air Fryer, it's known to cook amazing bacon!
Secura Air Fryer
This Secura Air Fryer is a 4.2-quart, 1500 watt electric air fryer. This air fryer is on the small end, but for the features, you're getting for the price, it's well worth it.
This air fryer takes into account safety and stays relatively cool to the touch, in addition to having automatic shut-off and indicator lights.
This is one of the most user-friendly air fryers on the market both as far as design and different features go.
Some of these features that appeal to users include:
180 to 390-degree Fahrenheit temperature range
Four-liter basket
It comes with recipes, skewers, and a toaster rack
Indicator lights for heating and power settings
Power chord that measures three feet, eight inches long
It does not heat up the kitchen too much, which makes for great use in the warmer months.
Two-year manufacturer's limited warranty
While this air fryer is made to be as user-friendly as possible, it does have analog controls, and the writing is a bit small, which could potentially make it difficult for some people to use. If these things won't be an issue, then the Secura air fryer would be well worth it if you are looking for an air frying system that is:
Easy to use
Relatively small
User-friendly
Overall, the Secura air fryer is one of the best for safety and making sure you have something that is reliable. Because of its safety features and the fact you know that it will shut off, this air fryer would be great for families with children who want to use it.
Automatic shut-off is a big deal for families with children and is an essential safety feature in quality air fryers. The Secura air fryer is fantastic for someone looking for an air fryer that's safe and both user and family-friendly.
Big Boss Air Fryer
The Big Boss Air Fryer is a bit different from most air fryers, but because of this, it has an absolutely massive capacity of 16-quarts, making it perfect if you need to make foods in large amounts. This is an oven glass air fryer that uses infrared convection to cook your food in a healthy way.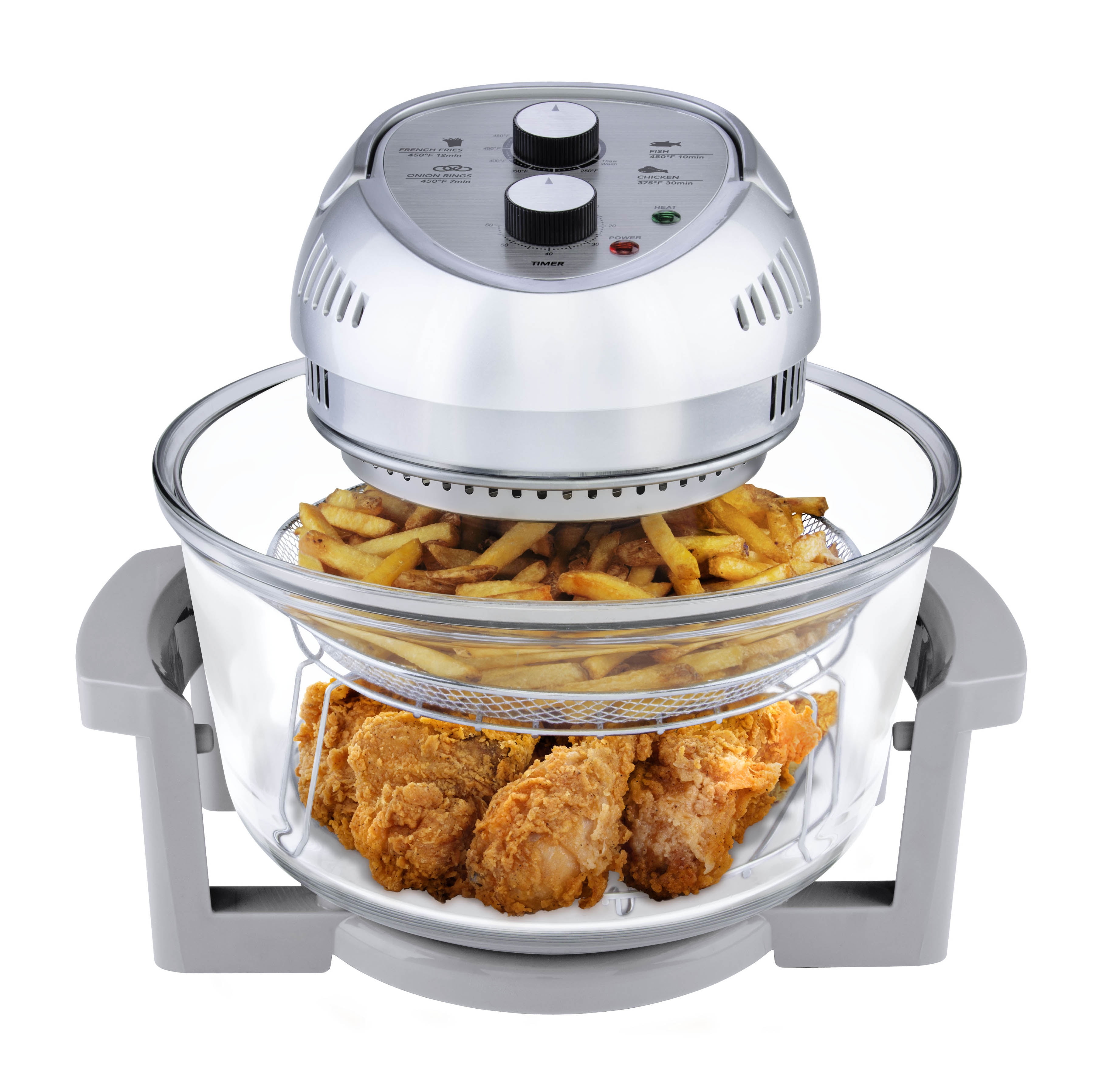 There are several features within the Big Boss Air Fryer that make it well worth the purchase. Most significantly, this air fryer does one of the best jobs of cooking food with little to no oil yet maintains the deep-fried, crispy texture that you want from your air fryer.
Other features within the Big Boss Air Fryer include:
1300 Watt built-in fan and 360-degree air convection system
Ability to bake, fry, grill, roast, and toast.
Adjustable time and temperature control
Built-in technology resulting in the perfectly cooked foods such as meat, seafood and vegetables
Cookbook with over 50 popular recipes and specific instructions about how to cook them in the Big Boss Air Fryer
Deep container to leave space between food
Heating tubes to avoid overheating the air fryer
Large 16-quart frying bowl that easily fits an entire chicken
Temperature range of 180 to 480-degrees Fahrenheit
The Big Boss air fryer is the best air fryer if you need something that is going to feed a lot of people. This air fryer's design takes into account making several different foods at a time and was designed to cook for large amounts of people.
If you are looking to get this air fryer, make sure you have enough counter space as it is quite large. However, it does have the ability to make several different foods at once with different areas to cook foods. In addition, with the high-temperature setting, you are able to cook a larger variety of foods in a shorter amount of time.
Overall, the Big Boss Air Fryer is perfect if you need to cook for larger groups. This air fryer is exactly what the name infers, a big boss.
NuWave BRIO Air Fryer
The NuWave BRIO air fryer is a small three-quart digital air fryer with built-in settings for easy cooking. Although this air fryer is on the far side of the small end as far as air fryer capacity goes, it makes up for it with technology and advanced features.
The NuWave BRIO air fryer is definitely only for small meals, but it will cook those small meals to perfection. Some of the features included on the NuWave BRIO air fryer include:
100 to 400-degree Fahrenheit temperature range adjustable in five-degree increments
Built-in timer
Consistent cooking temperatures to ensure evenly cooked food
Six pre-programmed cooking functions for homemade chicken nuggets, chicken breasts, homemade fries, frozen fish sticks, frozen fries, and steak.
A unique air-flow design that uses super-heated air specifically created to cook crispy foods
The NuWave BRIO does a phenomenal job at keeping your food the temperature you want it. This air fryer checks the internal temperature an astounding 120 times per second, ensuring that your food is both evenly and well cooked.
Overall, the NuWave BRIO is great for individuals and those who live in apartments who need something reliable, simple, and small. This air fryer has advanced technology despite the small size, which allows you to cook your favorite foods to perfection and in a serving size that is right for you.
PowerXL Air Fryer Vortex
The PowerXL Air Fryer Vortex is a highly rated air fryer that not only fries foods but also:
These features alone make this the ultimate kitchen tool. PowerXL's air fryers are made to be easy to use and are the number one selling air fryer brand for several different reasons.
This small, 1.89-liter, 1000 watt air fryer was made for making food effortlessly by including several features such as:
10 cooking presets that allow you to easily air fry, bake, broil, dehydrate, and reheat almost any different kind of food.
400-degree maximum temperature settings
Digital display panel to easily navigate and use the air fryer
Timer with automatic shut off to ensure safety when using the air fryer
Overall, this air fryer is able to cook just about anything you want with user-friendly features to help you navigate the air fryer like a pro your first time using it. In addition, with the many different options it has for cooking settings, you are able to use it for just about anything.
This air fryer is perfect for smaller homes that don't have an incredible amount of counter space but still want an air fryer that the family is able to use to make easy and quick snacks and meals.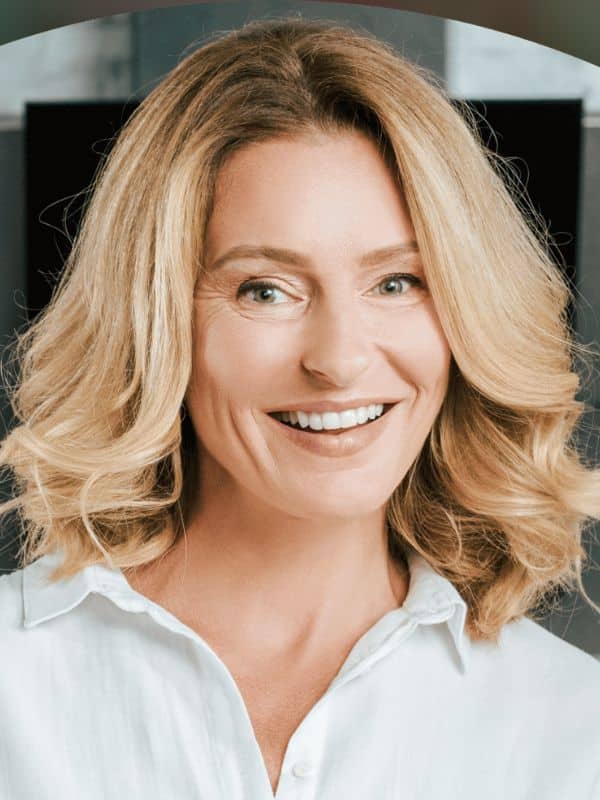 Hi all! I'm Cora Benson, and I've been blogging about food, recipes and things that happen in my kitchen since 2019.