There are currently four different Instant Pot sizes available to choose from, which can often make finding the right one incredibly difficult.
I've found that the 6 quarts Instant Pot is best suited to small families, making it the most popular size model. However, if you're cooking for a larger family or enjoy batch cooking and have the space and budget available, I'd recommend going up to either an 8 or 10-quart model instead.
In this post, I'll break down the essential things you'll want to consider when choosing the right sized Instant Pot for your needs.
How Many People Are You Cooking For?
First, you'll want to think about what kind of cooking you plan on doing with your Instant Pot.
If you're only planning on cooking small meals for either yourself or as a couple, then you can go ahead and get either a 3 quart or 6-quart model.
However, if you regularly cook large batches of food either to eat leftovers, as part of a batch cooking meal plan or for a large family, then you'll probably want to look at either an 8 or 10-quart model instead.
How Much Space Do You Have In Your Kitchen?
Of course, the larger the capacity of your Instant Pot, the larger the size.
Therefore it's essential to consider how much room you have for storing your appliance when it's not being used.
If you're living in a small apartment, for example, then a 10-quart model will likely take up a significant amount of counter or cupboard space compared to a 3 quart.
Your Budget
Generally (although there can be exceptions during sale season), a larger Instant Pot costs more than a smaller one.
However, this isn't the sole factor to dictate the cost of the appliance, as different models with different features significantly affect the price.
Here's a table summarizing the average cost of Instant Pots by size and model:
| | | | |
| --- | --- | --- | --- |
| Models | 3-quart Instant Pot | 6-quart Instant Pot | 8-quart Instant Pot |
| LUX | $149.99 | $184.99 | $239.99 |
| DUO | $69.99 | $79.99 | $99.99 |
| DUO PLUS | $99.99 | $99.99 | $119.99 |
| ULTRA SERIES | $59.99 | $139.99 | $149.99 |
| SMART WI-FI | | $169.99 | |
| NOVA | | $99.99 | $119.99 |
| VIVA | | $119.99 | $279.99 |
Is It Your Second Instant Pot?
Many fans of the Instant Pot look to buy a second to make side dishes or other meals entirely while their current Instant Pot is in use.
If this is your second Instant Pot, then you'll want to use your existing appliance as a base to help you decide whether you should opt for larger, smaller or the same size for your second one.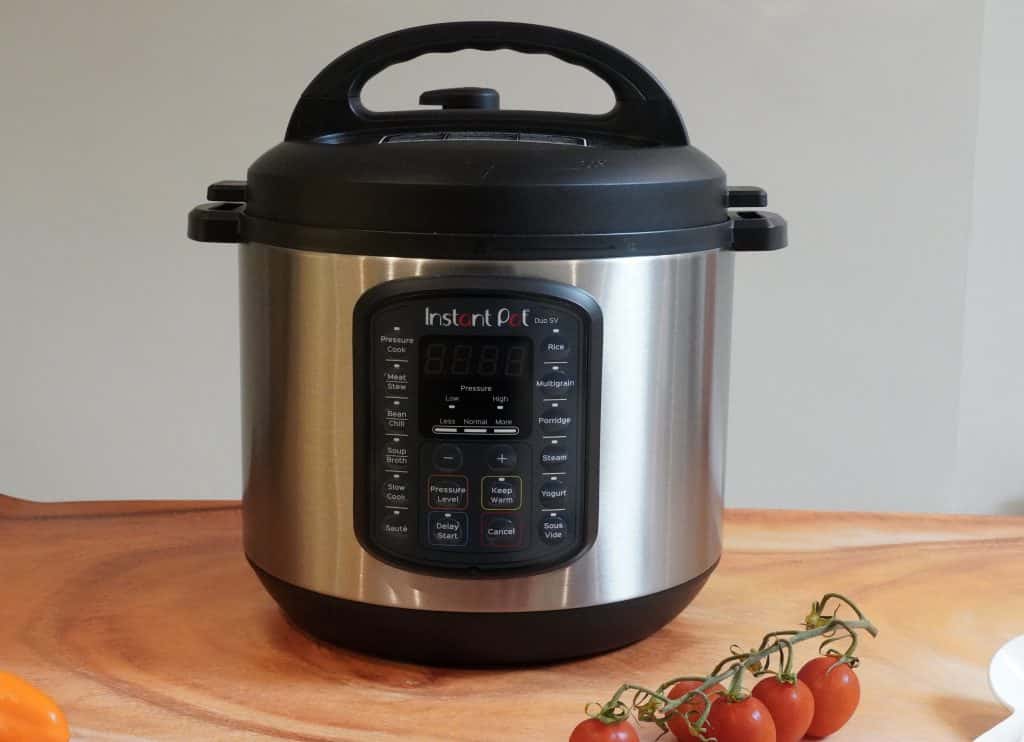 I opted to get the same size model (6 quarts) so that I could use the appliances parts interchangeably as and when I needed to.
Although in hindsight, I could have probably got away with a smaller 3 or 6-quart model instead since the majority of the time, I only use a secondary Instant Pot when cooking side dishes or appetizers.
Is A 3 Quart Instant Pot Big Enough?
The 3 quarts Instant Pot is often called the mini Instant Pot and is available in either the LUX, DUO, DUO Plus or Ultra Series model.
This Instant Pot has a smaller footprint and isn't as heavy, so it's great if you live somewhere small, like in an RV, dorm, or a small apartment with limited counter space.
While the small footprint is a real benefit, the drawback is its lack of capacity which results in this size Instant Pot only being able to cook either appetizers, side dishes or small meals for up to two people.
Is A 6 Quart Instant Pot Big Enough?
The 6 quarts Instant Pot is best suited for families of up to four people.
Given that the vast majority of Americans shop for around four people, this size Instant Pot is unsurprisingly the most popular and, as such, is available in all models, including the Duo Lux, Ultra, Duo, Nove Plus and Viva.
The benefit to owning a 6 quart Instant Pot is that the majority of Instant Pot recipes have been tailored specifically to this size, being that it's the most common.
Those with larger or smaller Instant Pots will likely have to adapt the amount of water content and, therefore, the cooking time to get the same results which can, in some cases, be frustrating.
For those looking to pick up an Instant Pot on a budget, you'll generally find that it's the 6-quart model that goes on sale most frequently.
I got my second 6 quart Instant Pot with the air fryer lid for under $90 last Black Friday, whereas the 3-quart model was $90 on its own.
With that in mind, you might question why anyone would opt for a 3 quart, and that's because, in some cases, the 6 quart Instant Pot model is too big.
I bought my friend a 6 quart Instant Pot for her birthday last year (or the year before, I forget). She's single and lives in a tiny studio in NYC.
Now, I thought this was a super practical and helpful gift, but I'd not considered that the 6-quart model, despite being the same cost as the 3 quarts when purchasing, was actually overkill and far too big for her needs her apartment.
Therefore, my lesson learnt is that it doesn't mean it's the best / most suitable just because it's a great price.
Is A 8 Quart Instant Pot Big Enough?
The 8 quart Instant Pot can comfortably hold up to 10 services or the equivalent of two whole chickens, making it the ideal model for those looking to cook for large families and dinner guests.
However, given its increased capacity, you'll generally find that this Instant Pot is more expensive when compared to the 6 quarts and takes up significantly more space on the counter.
The increased capacity also means that the Instant Pot requires more water, takes longer to heat, and uses more electricity. As such, the 8 quarts Instant Pot might be too big if you're a family of four (or less) and don't frequently batch cook your meals.
Is A 10 Quart Instant Pot Big Enough?
The 10 quart Instant Pot is currently only available in the Duo Nova model and isn't commonly found in retail stores and instead has to be ordered online.
Given its 10 quart size, this Instant Pot is likely going to be too big if you're cooking meals for up to four people and instead is better suited for those looking for between 6 to 12 people or batch cooking enthusiasts.