Dehydrators have enjoyed a significant rise in popularity over the years. These countertop devices come in different shapes and sizes, with top-level dehydrators integrating advanced features and settings. However, many people plan to use their dehydrators infrequently and prefer settling for the more affordable ones; but is a cheap dehydrator worth it?
Cheap dehydrators are good for dehydrating foodstuff on a small-scale basis. Whether it's worth buying one or not depends on how often you plan on using it. If you intend to use your dehydrator for commercial purposes, you should not buy a cheap dehydrator.
Are you debating on whether to settle for cheap or slightly more expensive dehydrators? If so, then you'll find this article helpful. Read on as we review some of the most affordable dehydrators, discussing their pros and cons and whether they're worth the investment.
What Are Dehydrators?
Dehydrators are countertop devices that work by sucking moisture out of foods over an extended period. By eliminating moisture from foods like meat, herbs, and fruits, a dehydrator helps preserve food while also intensifying the overall flavor.
Using a dehydrator allows you to make ingredients more shelf-stable and flavorful. Moreover, homemade snacks made from a dehydrator are usually healthier than those bought from stores.
This is because, unlike store-bought snacks, dehydrators tend to preserve foods and ingredients without the need for additives, calorie-laden ingredients, and preservatives.
Dehydrating is also a great way to preserve nutrients that would otherwise be lost when using other methods. For instance, ingredients like kales, which are full of heat-sensitive and water-soluble vitamin C, tend to lose their immune-boosting potency when boiled or overcooked.
Dehydrating allows you to preserve nutrients and vitamins better, especially when dealing with heat-sensitive ingredients.
You can make snacks like oil-less potato chips, beef jerky, and fruit leather with a food dehydrator at hand. You can also use a dehydrator to add flavor by drying herbs like thyme or rosemary. Put simply, a dehydrator allows you to experiment with various ingredients, from seasoning salts to innovative toppings.
How Dehydrators Work
Dehydrators, whether cheap or expensive, work by circulating air at consistent, low temperatures. You must carefully arrange the foods or ingredients without coming into contact with air to dry completely and evenly.
An ingredient's water content usually determines the required drying temperatures inside a dehydrator.
Below are some recommended temperatures for common foods based on water content:
Water-dense foods: It's best to dehydrate ingredients like fruit at high temperatures like 134-137 °F (56.67-58.33 °C). Such temperature allows for quick drying without making the fruits too crisp.
Vegetables: Veggies don't need too much heat, and you can dehydrate them at temperatures within the 124-125 °F (51.11-51.67 °C) range.
Meat: Based on USDA recommendations, you should cook meat until it reaches a 165 °F (73.89 °C) internal temperature. Afterward, you can dehydrate it between the 130-140 °F (54.44-56.67 °C) range. Observing these guidelines ensures the resulting beef jerky is free of harmful bacteria.
Delicate foods: You should dehydrate foods like herbs and spices at low temperatures within the 94-96 °F (34.4-35.56 °C) range. This will help prevent discoloration and overdrying.
Factors That Affect the Cost of Food Dehydrators
Below are some of the factors that can affect the cost of food dehydrators.
Timers
One luxury that you'll have to forego when using budget dehydrators is the timer function. Most cheap dehydrators don't come with timer functions, meaning you'll need to do the timing yourself, especially if you don't want to overdo your ingredients.
Advanced dehydrators will give you a lot more freedom when it comes to fruit, meat, and herb dehydration. Some expensive units even come with auto-shut-off features that allow for overnight drying without the risk of over-drying.
Materials
Most commercial dehydrators are made from high-quality materials, with most designs relying predominantly on stainless steel construction.
However, with low-budget dehydrators, you'll most probably have to contend with not-so-durable components. The plastic trays, although BPA-free, are not as sturdy as those you would find in top-end dehydrators.
While you might be lucky to get entry-level dehydrators made from stainless steel, these devices aren't designed to take thorough beatings and will likely belt under excess pressure.
Therefore, if you want a device that can handle aggressive use on a day-to-day basis, then it's best to settle for commercial dehydrators made from high-quality materials.
Performance
You can't compare the performance you get with a budget dehydrator to the drying capacity of costlier units. But if you're looking to dry some fruits for snacking or herbs for day-to-day cooking, a cheap dehydrator will suffice.
However, you'll probably need a commercial, high-performance unit if you're planning on running a business or drying foodstuffs on a large scale basis. This is because cheap dehydrators can't dry foods as fast or effectively as their costlier counterparts.
Size and Space
The good thing with cheap dehydrators is they mostly come with compact designs and stackable trays to conserve space.
However, while you can still dehydrate several food items in entry-level dehydrators, these devices don't have as much capacity as their costlier counterparts meant for commercial use.
Wattage
Wattage is an expression of the total power released by an electrical appliance. Low wattage means the item will use less energy. However, the low energy consumption comes at the expense of duration as low wattage dehydrators usually take longer to heat up and dry foods.
Higher wattage dehydrators are usually more powerful as they heat up relatively faster than their cheaper counterparts. Therefore, a cheap dehydrator isn't too bad as it can help you lower overall costs as long as you're patient enough to wait longer.
Simplicity
Although simplicity is a good feature, it can also limit a dehydrator's ability to dry a large variety of ingredients. You'll be lucky to find an entry-level dehydrator that comes with advanced temperature control settings, as most just allow you to regulate the internal temperature within a small range.
Expensive dehydrators usually come with a wide array of features and settings that increase usability and overall efficiency. Generally, the costlier the dehydrator, the more features it'll have.
Trays
Most budget food dehydrator machines use vertical fans and trays. The trays in dehydrators with vertical fans usually come with holes (in the middle) that allow for proper airflow, which translates to reduced overall space.
Horizontal machines with 7+ trays can help increase drying capacity, but you'll need to pay more, as horizontal dehydrators tend to cost more than vertical ones. In case you opt for a cheap dehydrator, choosing one with expandable vertical trays is highly advisable.
Is Buying a Dehydrator Worth It?
Dehydrators don't feature in most must-have kitchen appliances lists, but having one on standby can come in extra handy. These drying machines can help in food and vegetable preservation and, even more importantly, help you take up a healthy lifestyle.
Below are some of the reasons why you should consider getting a food dehydrator.
Dehydrators Help Support a Healthy Diet
While a dehydrator won't prevent you from snacking on unhealthy junk, it helps put healthy food at the center of your daily diet. This is because, with a dehydrator, you'll mostly be drying foods like cherries, peaches, apples, pineapples, bananas, mangoes, and tomatoes.
Drying food also helps to preserve nutrients, ensuring that besides getting that burst of flavor in your food, you also consume healthy foods with a lot of nutrients.
Dehydrators Can Lower Grocery Costs
With a dehydrator, you won't need to buy expensive snacks like store-bought jerky. All you'll need to do is cut your meat in the right sizes and prepare as needed before drying in the dehydrator. Dehydrators allow you to make tasty turkey, fish, and beef jerky with relative ease.
You can also replace expensive snacks like power bars with more affordable snacks made from a dehydrator. Fruits like peaches, apples, pineapples, apricots, strawberries, kiwi, pears, blueberries, and bananas can be easily dried in a dehydrator to make healthy, tasty snacks.
Dehydrators Reduce Food Waste and Preserve Food Longer
Dehydrators are known to reduce food wastage significantly, especially when used to preserve foods with fairly short shelf lives. Items like vegetables, fruits, and herbs can't stay fresh for long, even when refrigerated.
But a dehydrator allows you to preserve the food items for longer without compromising their nutrients or flavor.
Best Cheap Dehydrators To Consider
The Presto Dehydro Standard Food Dehydrator features a four-tray system that allows you to work on several ingredients simultaneously. Although it doesn't have an on/off switch, it still comes with several useful features that make fruit and herb dehydration a breeze.
You can buy additional drying trays, fruit roll sheets, jerky guns, and nonstick mesh screens separately to enhance the product's versatility. Moreover, the dehydrator's preset temperature of 165 °F (73.89 °C) allows you to dry meat products and make homemade jerky.
Pros
It comes with four drying trays that can expand up to eight trays (if bought separately), thus increasing overall capacity.
It operates at a 165 °F (73.89 °C) preset temperature.
The drying trays are dishwasher safe and fully immersible.
It features a see-through cover that allows you to monitor the top tray.
Cons
It doesn't have an on/off switch as it turns on automatically when plugged into an electrical source.
There aren't many low-budget dehydrators that come with advanced features like the MVPower Food Dehydrator Machine. This dehydrator features a timer and digital temperature setting that allows you to regulate temperatures between the 95-158 °F (35-70 °C) range. The temperature setting makes it possible to dehydrate ingredients with varying moisture levels.
The see-through trays allow you to monitor your ingredients as they dry inside the dehydrator. Moreover, all the trays are BPA-free making them healthy for repeated use.
The dehydrator is ETL certified and can be used to dry beef, fruits, vegetables, herbs, and pet snacks. Its compact rectangular shape ensures it occupies the minimum possible space on your countertop.
Pros
It is an ETL-certified product that comes with BPA-free trays.
Time settings allow you to program the dehydrator, thus eliminating the risk of over-drying ingredients.
Digital temperature control gives you more flexibility to set between 95-158 °F (35-70 °C).
The trays are dishwasher safe, and a soft, damp cloth can easily clean the base.
Compact design makes it perfect for medium-to-small-sized countertops and storage shelves.
It comes with a 24-months warranty and a 30-day money-back guarantee.
Cons
The racks are too close and can't be adjustable, meaning you won't have much flexibility when fitting large ingredients.
Featuring five stackable dryer trays (removable), the Nutrichef Electric Food Dehydrator is a great low budget addition to your kitchen accessories. With only one operational button, the dehydrator is easy to use, making it a great fit for first-timers and inexperienced users.
The 180 °F (82.22 °C) maximum temperature allows you to prepare a wide variety of ingredients ranging from beef jerky to fruits, veggies, and even potatoes. Although it doesn't have the most advanced temperature control feature, it gets the job done to remove moisture and preserve ingredients.
Pros
High heat circulation between the trays ensures you can effectively remove moisture content from all foods.
The stackable trays allow for space conservation.
The trays are removable and fairly easy to clean.
The temperature control system has a 180 °F (82.22 °C) maximum limit.
Cons
The trays are not of the highest quality.
This professional food dehydrator features a multi-layer, transparent design that allows you to save on space and monitor your ingredients as they continue to dry. The RS1 Portable Countertop Dehydrator comes with five stackable (removable) trays that are durable and easy to clean.
For a budget dehydrator, the RS1 Countertop Dehydrator comes with temperature control buttons that allow you to adjust between eight different temperatures. It also boasts a high-quality heating element and fan that guarantee stable airflow inside the device.
Pros
It comes with eight temperature settings that allow for the smooth drying of different ingredients.
The 5-stackable trays are easy to remove and clean.
It features a high-quality heating element and fan that provide stable airflow for proper drying.
The transparent trays allow you to monitor the foods as they dry.
Cons
It might take longer to completely dry ingredients with high water content.
Unlike most low-budget dehydrators, the Sunix Electric Food and Fruit Dehydrator comes with temperature and timer settings. You can choose your preferred drying temperature between 95-154.4 °F (35-68 °C), a feature that significantly enhances the dehydrator's versatility. The device further allows you to set a timer from 1-48 hours to suit your schedule.
The use of 5 BPA-free trays allows you to dry different foods at a go. And although the trays are not the strongest, they can serve you for long if well maintained. This affordable device is easy to use and can make delicious, healthy snacks like banana chips, beef jerky, fruit roll-ups, and even dog treats.
Pros
The trays are BPA-free, transparent, and easy to clean.
Temperature control and timer enhance the dehydrator's usability and versatility.
It comes with a hot air fan that automatically turns on and off to balance internal temperature.
It uses a special airflow drying mechanism that eliminates the need for tray rotation.
It is easy to use, courtesy of its straightforward program settings.
Cons
You cannot purchase extra trays.
The timer could use some improvement.
This affordable food dehydrator machine by Seeutek comes with a temperature control setting that allows you to select your preferred drying temperature within the 95-165 °F (35-73.89 °C) range. The dehydrator is suitable for dehydrating beef, fish, and turkey jerky and can also come in handy in drying herbs and spices.
One of the dehydrator's selling points is its ease of use as it comes with a power knob and a temperature regulating knob. Moreover, the 5-tray capacity makes the Seeutek Food Dehydrator great for drying several foods at once.
Pros
It is easy to use, courtesy of its simplistic design.
It allows for the regulation of internal temperatures between 95-165 °F (35-73.89 °C).
It comes with BPA-free, easy to clean (and dishwasher safe) trays.
The transparent design allows you to monitor foods while dehydrating.
You can rotate the trays to adjust their heights between 2 and 3.2 cm (0.79 and 1.26 in).
It comes with four storage bags (reusable) that allow you to seal foods for proper storage.
Cons
It doesn't come with a timer.
The CookNShare Food Dehydrator boasts a 126-square inch (812.9-square centimeter) drying space that allows you to dehydrate more foods at faster rates. It comes with four nesting trays that are dishwasher safe and easy to assemble.
All the trays are transparent to give you a great view of the foods you're working on. Impressively, this entry-level dehydrator comes with some advanced features like a timer and 2- heat settings that improve its overall performance.
Pros
The compact design helps conserve countertop space.
The wide surface area allows for the drying of greater bounty.
It comes with four dishwasher-safe, high-quality trays.
It is ideal for drying fruits, jerky, and veggies.
Cons
The overall drying time might be longer than the average dehydrator.
Trays tend to weaken when used and cleaned frequently.
This entry-level food dehydrator comes with stainless steel trays to complete its stainless steel base. While it doesn't boast a great assortment of features, its superior fan allows for proper air circulation between the trays.
All the layers are transparent to allow for proper monitoring throughout the drying process. The lid and plastic slides are all BPA-free and dishwasher safe, making the entire appliance easy to clean. Moreover, you'll also love the flexible height of the entire dehydrator as you an stack the trays at two different heights.
Pros
It has a sublime stainless steel finish.
The trays are durable and long-lasting.
It is easy to use as it boasts a minimalistic design with only an adjustment knob and a power switch.
Transparent layers allow you to monitor the entire process.
Cons
The trays can crack when you frequently use the maximum heat setting.
If you're not big on day-to-day dehydration, then this budget dehydrator by Vonshef is your go-to do device. Although it doesn't come with advanced features like those you'd get on most mid-to-top level dehydrators, it can still perform the basic function of drying fruits, meats, and vegetables.
The Vonshef Electric 5-Tier Food Dehydrator features a large 5-tire design and comes with fully removable BPA-free trays that make unloading and loading a breeze. The trays are also stackable at two different heights, which allows you to fit different-sized ingredients.
Pros
It comes with an aesthetically appealing stainless steel base.
It comes with two main settings, the power button and a temperature control knob.
The trays can be stacked up to two different heights, thus increasing the machine's versatility.
Users can control the temperature between 104-158 °F (40-70 °C) to dry different types of food.
Cons
The noise levels can get quite high.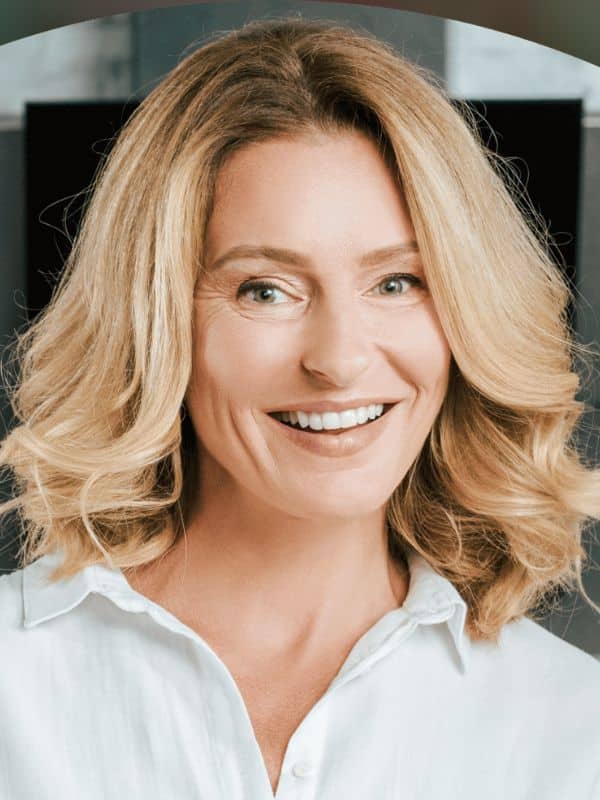 Hi all! I'm Cora Benson, and I've been blogging about food, recipes and things that happen in my kitchen since 2019.