Whether you're munching down on some dried fruits or looking forward to that beef jerky you've got waiting back home, there's no denying the brilliance of a dehydrator. However, using one can be confusing sometimes. For instance, can you stop the dehydrator and restart it later?
You can stop and restart a dehydrator much later as long as you keep tabs on how much time is left to complete the drying process for the specific food item in it. An alternative to stopping and restarting a dehydrator out of necessity is to install an outlet timer.
In this article, I'll cover all you need to know about stopping and restarting a dehydrator. Does it make sense, and will it affect your food? Read on to find out!
What Is a Dehydrator?
A dehydrator is an appliance that dries materials at low temperatures over a long time.
They're mostly used to dry foods, but it's not uncommon to find dehydrators in certain work environments outside the kitchen.
How Does a Dehydrator Work?
A dehydrator works by circulating air at a very low temperature. The food materials to be dried have to be spread out inside the appliance to ensure completely even drying. Most manufacturers have a recommended drying temperature for different types of food materials.
The water content is the major determinant of the temperature. Water-dense foods such as fruits can benefit from drying under higher temperatures such as 135°F (57°C), while you can dehydrate vegetables at around 125°F (52°C). Delicate foods such as certain herbs have to be dehydrated at lower temperatures around 95°F (35°C) to avoid discoloration and excessive dehydration.
You typically dehydrate meats at 130°F to 140°F (54°C to 60°C), but only after cooking to achieve an internal temperature of 165°F (74°C) first.
What Are the Benefits of Dehydration?
The benefits of dehydration include giving any food a stronger flavor due to the lack of moisture. Herbs will feel more pungent, while fruits will be sweeter. It also makes storing the foods over prolonged periods easier overall.
In addition to the increased shelf-life and better flavor, you don't have to worry about preservatives, sugar, oil, or other unwanted ingredients. This makes foods dried this way healthier than those bought off supermarket shelves.
Additionally, some cooking methods ruin the nutritional content of certain food types. Dehydrating ensures better nutrient retention.
What Are Other Uses of a Dehydrator?
Other uses of a dehydrator apart from drying fresh fruits and vegetables include:
Make dehydrated molds for painting
Make stale foods like crackers and cookies crisp again
Make dog treats
Ferment yogurt
Make dry homemade pasta
Why Stop and Restart a Dehydrator?
As we mentioned above, you need to put the food item in your dehydrator for a considerable amount of time to dehydrate fully. Sometimes, this means waiting 8-12 hours.
You might stop and restart a dehydrator later if you suddenly have to go out or need to retire to bed and don't want to run the risk of having the food dry too much.
Is it a Good Idea To Stop and Restart a Dehydrator?
It can be a good idea to stop and restart a dehydrator in many cases – as long as you remember to complete the drying process. Half-dried food items can go bad quickly if left for long in the dehydrator when it's turned off.
However, some foods may also become brittle if you stop and restart the dehydrator when you're already well into the process.
If you're unsure of how long you'll be away, take out the food items and put them in the fridge until you return. This is most important when you're dealing with sensitive foods like meat, yogurt, etc.
However, if you're sure of getting back just in time, it may be best to leave the dehydrator working. Some people prefer to turn off the appliance after taking note of how much time is left in the process and turn it back on to complete the remaining dry time recommended for the food item.
To avoid any problems after stopping and restarting a dehydrator, you need to know the perfect dry time for the food item and how long it'll take your dehydrator to cool down and reach the top temperature again. If you stop and restart with these in mind, your food should turn out fine.
Alternatives to Stopping and Restarting a Dehydrator
If you don't want to stop and restart your dehydrator at all, there are a couple of things you can do:
Buy an Outlet Timer
Outlet timers are cheap products that can allow you to decide how long you want any appliance connected to the outlet to stay on.
Using one of these, you'll cut down on wasted energy around the home and also ensure your food dehydrator goes off exactly at the right time. You just need to get one an outlet timer, plug it into the outlet, and connect your dehydrator.
Below are some of the top options available on Amazon.com that you can get today:
BN-Link offers two of these easy-to-use timers in a pack. They'll work with most appliances, including your dehydrator. There are 24 time settings to work with, so whether you're drying some vegetables or some meat, you can set the exact drying duration that works best.
The timer has a slim profile, so it won't stand out much in your space. There are no loose parts to worry about if you've got kids in the house. However, this is an analog timer, so you're bound to hear some ticking noise. It's not loud enough to cause any major discomforts, but it's something you should know.
This is another excellent digital timer that's easy to use. You can program it to stay on for any number of minutes when you need to leave the house. On days when you're using your dehydrator while at home, you can choose to set the timer to the "Always On" mode and monitor the drying manually.
Unlike some of the other options you'd find in the market, the timer always works silently. Setting it up is also simple, thanks to the clearly labeled button and the large LCD screen. You won't have to strain to set the drying time.
DEWENWILS includes two of these in a pack.
This is the perfect digital timer for your home. With four of them in a pack, you can fit almost all the major plug points in your home with a timer you can control easily. If you love smart devices, then this is a product you'd want to have in your home.
The Treatlife Smart Plug has everything you'd expect from a smart device, including voice control with Alexa, child lock function, holiday mode, and remote functionality. This means you can leave your dehydrator on and go about your day while keeping an eye on it from your smartphone.
The app isn't one of the most intuitive, but once you get the hang of it, you'll never have to worry about having to step away from the dehydrator for a while.
Buy a Dehydrator With Temperature and Time Controls
Outlet timers are the easier (and less expensive) approach for controlling your dehydrator. However, if you're due for an upgrade on your dehydrator, you should consider going for a model that has accounted for programmable drying times. With these, you don't have to worry about stopping and restarting the appliance.
Below are some of the best options from Amazon.com that you can go with:
With features like temperature control, a digital timer, and six trays to work with, it's no surprise that the Cosori dehydrator is a huge favourite.
This is a quiet and super convenient dehydrator. Apart from the timer, there's a memory function, which means you can save the settings used to dry certain foods, so you can activate the mode with a single button push. You no longer have to remember how long it took to dry that fresh tray of fruity treats!
If you want a cheap digital dehydrator you can rely on to process up to five racks of food in one go, this Hamilton Beach model should be high on your list. The trays don't all look similar. There's a mesh option which is great for drying smaller foods or herbs, while the solid sheet can take the weightier stuff.
You can set temperatures between 100°F (38°C) and 160°F (71°C) on the digital thermometer. The adjustable timer is easy to set up and is capped at an ample 48 hours – enough time to work with for even the most demanding dehydration sessions. Like other models, the appliance shuts down once the time has elapsed.
The biggest selling point for this product is the 9-tray design which delivers around 15 ft (4.57 m) of food drying space. It's the perfect product to go for if you'd like to cut down on how much time you spend on food dehydration every week.
There's a built-in 26-hour timer, and the adjustable temperature can go as low as 105°F (41°C) and as high as 165°F (74°C). The product is super easy to use, and the company has included a guide to dehydration – useful for newbies.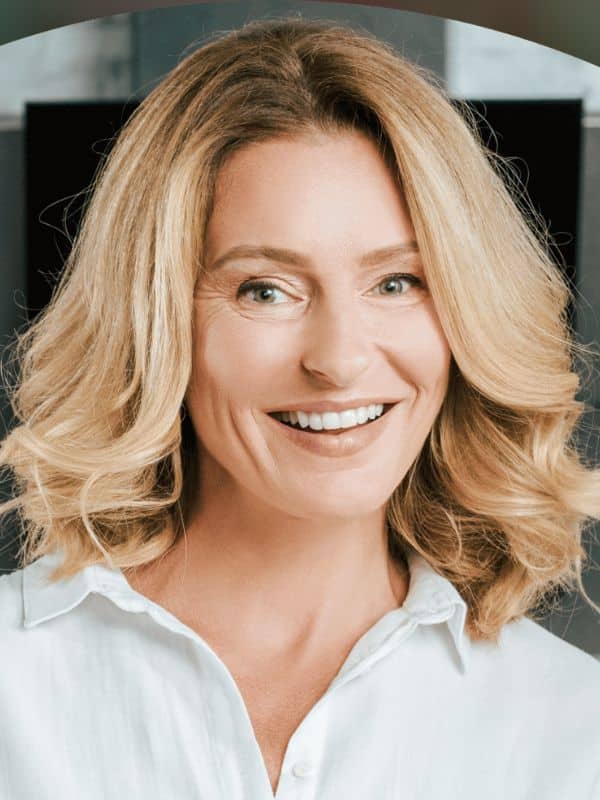 Hi all! I'm Cora Benson, and I've been blogging about food, recipes and things that happen in my kitchen since 2019.