Are you looking for the best way to organise baking trays and save space in your kitchen?
There are so many ways in which you can save space in your home and honestly the options and systems you can find are endless (which I love because it means I can keep re-organising our home!) But there are a few items that are just hard to organise and make look nice and practical.
One of those for us is baking trays, we don't even own many but the ones we have seem to get in the way, cause the other pans to slide around and it just gets messy. I almost dread putting them away after washing or now I just don't do it, but then it makes the kitchen untidy and they get in the way.
I finally took the plunge to sort out the storage in our large pan drawer in the kitchen and hopped onto Pinterest for ideas on how I could store my baking trays. In the process of finding the best option for our layout and needs I thought of so many other ideas people could use in their homes.
1. Put In A Toe Kick Drawer
The quickest and easiest way to store and organise baking trays is to put them into the toe kick drawer under your cooker. Many single cookers have the space underneath to include a draw for baking trays and bun trays.
This is one of the easiest places to put them, especially if your kitchen already has this drawer.
2. Use Plate Racks
Another great hack to organise and store baking trays is to use plate racks, whether you use them standing up or horizontal is up to you and space you have available.
I would advise to use them standing up as it would be easier to get the trays in and out. You can pull the trays out and put them away with ease. You can also keep them a little more organised in size or use.
3. Use Hooks On Cupboard Doors
I would advise to use them standing up as it would be easier to get the trays in and out. You can pull the trays out and put them away with ease. You can also keep them a little more organised in size or use.
We have all seen those really cool hacks of using hooks on the inside of cupboard doors to hold pan lids right? Well this is the same concept but using bigger hooks to provide more stability.
This is a great idea if you have a cupboard that has some space in which you can use on baking trays and bun trays. You can even do this to large pan draws on the inside to hold the trays to one side while you have stacks of pans in the rest of the draw. I constantly find it hard to get to what I need in my pan drawer so I am always looking for ways to get it more organised and use the space better.
You can use hooks that are drilled in or command hooks to hold the trays in place.
4. Organise Into A Baskets
Baskets are a wonderful way of storing items and staying organised in the home. I love using them for a number of things we have in the house from food to crafts and blankets. I have plenty of plastic baskets that are really easy to use in the kitchen and are easy to clean.
You can find a number of sizes that can incorporate baking trays to store in a cupboard or shelf in a pantry or a pan draw. You can even use the baskets to organise the baking trays into flat one, pizza trays, bun trays and cake tins along with any others you might think.
5. Insert More Shelves
A fairly inexpensive and accurate way of creating more space and give you better organisation in your kitchen is to add more shelves. If you have a particular cupboard in which you can add more shelves to create slimmer shelves to use for the baking trays and making most of the space this is a great option.
We have an Ikea kitchen which means we can purchase more shelves into the cupboard and not have to do too much drilling or altering to the framework.
6. Use A4 Magazine Racks
I love this idea as it is so simple and easy to do, if you have any deep pan drawers, skinny cupboard or pantry space this is a great idea of storing your baking trays without taking up too much space. These are super easy to get hold of and can be found in a number of colours and styles to fit any colour scheme.
This is a terrific idea if you want to have easy access to your baking trays but also keep them tidy and neat. You can place the magazine racks pretty much anywhere they will fit. You can place them horizontally to fit into a tighter space or stand them vertically in slimmer spaces.
7. Use Under Shelf Basket
Have you seen those handy baskets that slide onto the underside of your shelves? I love them, I want to use them for everything they are so useful. This is a great alternative to creating more storage and organisation if you can't add in more shelves.
I find these easy to use to separate different trays into separate baskets. You can place them under any shelf you have and place th trays inside, this helps use the vertical space of a cupboard and keep your trays more orgnanised. I used to have all mine rolling around in a large pan draw and it was really hard to find what I needed without pulling everything out.
These are easy to find on Amazon or in shops such as The Range, Homesense and TK Maxx.
8. Use Over The Door Storage Rack
I love making the use out of interior doors and hanging things over the back, we currently have over the door coat hangers for dressing gowns in the bathroom which gave me the idea for using a rack system.
This can really only work if you have an interior door within your kitchen to use. Luckily we have a door that goes down to our cellar that is perfect to use for this kind of rack. The door can be closed to hide the trays but they are so easy to get to and easily accessible.
If you don't fancy having your baking trays in this type of storage, look at using it for other items such as spices, sauces and jars and create a new space in a cupboard for your baking trays.
We found this super cute one on Amazon which is great for using anywhere in the house, the deep pockets are perfect for storing in baking trays and more bulky items. They also come with cardboard infills which helps keep the pockets rigid and stiff.
I hope you have found this useful and have found a new way to store and organise your baking trays.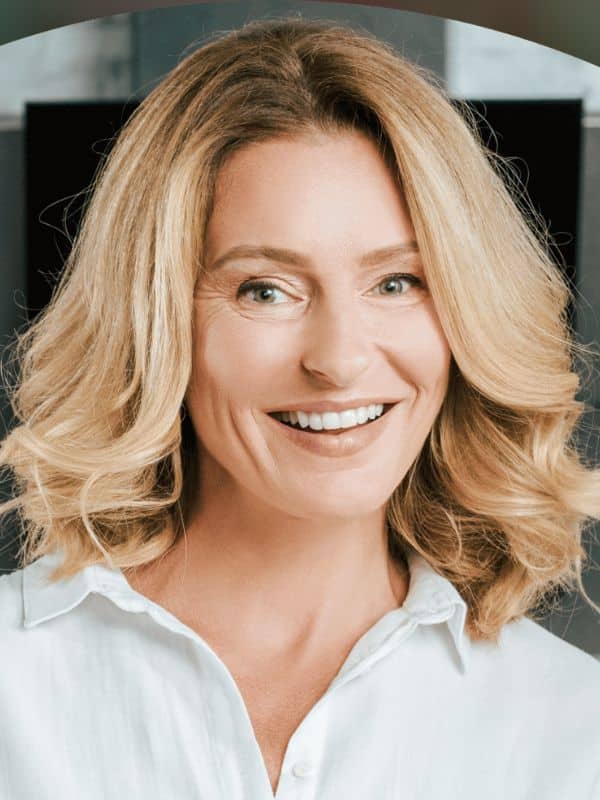 Hi all! I'm Cora Benson, and I've been blogging about food, recipes and things that happen in my kitchen since 2019.