If you have microwaved chicken in the past, whether it was cooked, or raw, it likely dried out.
This can be very frustrating as dried chicken tends to lose most of its flavor. Instead of being juicy and flavorsome, it becomes bland and chewy.
Fortunately, this is something you can avoid fairly easily and I will talk you through the best ways to microwave both raw chicken and reheated chicken, to help prevent either from drying out.
Let's get you microwaving juicy and tender chicken…
Microwaving chicken: The method
We will be talking you through the best method to follow to help prevent your chicken from drying out.
While these are simple steps to follow, they will make a significant difference to the taste of the quality of the chicken, and require minimal effort.
Sale
Bestseller No. 1
What You Will Need
Here is everything you will need:
Step One – Preparing the chicken
To begin with, you will need to ensure that you have everything you need. Take your chicken out of the refrigerator and place it on your plate or microwave-safe container.
While you potentially could use raw chicken and cook it from scratch in the microwave, it is easier to heat up chicken that has already been cooked.
I honestly wouldn't recommending cooking raw chicken in the microwave.
You will want to take your oil and place a very light coating over your chicken. This will help it to retain its moisture while cooking to help prevent it from drying out.
If you are using raw chicken, you can choose to season it to your preferences.
Sale
Bestseller No. 1
Step Two – Sprinkling water on the chicken
Once you have placed oil on your chicken, you will also want to sprinkle the chicken with a few teaspoons of water.
This will work with the oil to ensure that the chicken remains moist and juicy while cooking, as inevitably some drying can occur.
Step Three – Plastic wrap or paper towels
Once you are satisfied with the amount of water and oil you have placed on the chicken, it will be just about ready to be placed into the microwave. However, before you do this, you will need to use plastic wrap.
When it comes to preventing chicken from drying out, plastic wrap is a fantastic option. You will want to ensure that the plastic wrap is microwave safe before using.
If it is safe to use, you will need to cover the plate in plastic wrap. This will help to heat the moisture in the chicken.
Alternatively, if you do not want to use plastic wrap you can choose to use paper towels instead.
These are a more eco-friendly option, but the paper towel may cause some of the moisture to escape from the chicken, in comparison to the plastic wrap.
Step Four – Cooking The Cooked Chicken
Once the chicken is sufficiently covered with plastic wrap or paper towels, it is ready to cook on the highest microwave heat setting.
This will ensure that the meat is being reheated quickly and evenly.
If you are simply reheating the chicken, it should not take too long to heat up.
We would recommend placing the plate into the microwave for around two to three minutes, to begin with.
Once the chicken has been reheated for a few minutes, you will want to take it out of the microwave (did you know you can microwave lentils?) to check how warm it is.
At this point, it is unlikely that the chicken would have reheated thoroughly.
If you are reheating a chicken breast, we would recommend placing it upside down to ensure that the chicken is cooking evenly. If you are using chicken pieces, you will need to stir them well. The microwave will cook food from the outside in, so it is important to ensure that the chicken is being cooked evenly.
You should then place the chicken into the microwave for another few minutes. However, the timing will vary depending on the size of the chicken.
When you feel that the chicken has cooked thoroughly, you will need to use a meat thermometer to confirm that it is a safe temperature.
The correct temperature should be 165 degrees Fahrenheit. If the chicken has not yet reached this temperature, you will need to place it back into the microwave until it is fully heated.
Once it has reached the temperature, it is safe to consume and it should taste nice and juicy without being dry.
Sale
Bestseller No. 1
Funtable Delicious Korean Chicken Sauce (14.1oz, Pack of 1) - Authentic Korean Flavor, Low-Calorie Sticky & Tangy Sauce. Ideal for Fried Chicken, Nuggets, Dipping & More
FUNTABLE KOREAN CHICKEN SAUCE (400g/14.1oz) - Funtable Korean Chicken Sauce is a flavorful delight that adds an enticing twist to your everyday meals. Explore the global sensation of Korean chicken's sweet and spicy taste by drizzling, dipping, or mixing it into your dishes. Enjoy the convenience of our mess-free squeeze bottle, making every meal more delightful.
VERSATILE SAUCE CREATIVE CUISINE - We've infused our sauce with fresh ingredients like onions, garlic, carrots, and more, ensuring a rich, multi-layered taste. This red, sweet, tangy, and spicy condiment elevates the flavors of countless dishes. Whether as a dip or a lavish coating, this sauce delivers an authentic Korean culinary adventure. Try it with chicken nuggets, fries, fish sticks, mozzarella sticks, tater tots, and an array of favorites the culinary possibilities are limitless.
DELIGHTFUL FLAVORS, LOW-CALORIE NUTRITIONAL EDGE - Funtable's Korean Chicken Sauce strikes a perfect balance between flavor and nutrition. Its sweet and spicy profile not only tantalizes your taste buds but also supports a balance. Savor its delectable taste without worrying about excessive calories, as it contains 0g of trans fat and 0mg of cholesterol. Your health and taste satisfaction are equally important.
SAFETY ASSURED - Your well-being and that of your loved ones are our top priorities. From the beginning to the end of the production process, every Funtable sauce is crafted with meticulous care and unwavering commitment to quality, backed by the prestigious international food safety management ISO 22000 and international environmental management ISO 14001 certifications. Experience the exceptional quality difference in every product.
FUNTABLE - Funtable, under the Sangkyung brand, is renowned for its 35 years of expertise in crafting authentic Asian flavors. We bring the best of Korea's culinary heritage to your table, ensuring every bite is a true taste of Asia.
Step Five – Cooking raw chicken
If you are choosing to cook the chicken raw, more care will need to be taken to ensure that the chicken is cooked thoroughly.
Again you will want to place the raw chicken on the microwave's highest heat setting.
On average raw chicken will take around 10 minutes to cook fully. However, the time will vary depending on the size of the piece of chicken being cooked and your microwave settings.
To begin with, you will want to place your covered chicken in the microwave for around five minutes.
After five minutes you will need to check how the meat is cooking and flip it over or mix the chicken pieces.
Recover the chicken and place it into the microwave for another few minutes.
As with the reheated chicken, you will need to ensure that it is piping hot. In addition to this, you will need to ensure that it is cooked throughout.
Place the meat thermometer into the thickest part of the chicken. If it is cooked it will reach a temperature of at least 165 degrees Fahrenheit.
If it is not yet cooked, place it back into the microwave until it reached this temperature. Once ready, the chicken can be served and should be nice and juicy.
How To Keep Chicken Moist When Microwaving It
It is easy to cook chicken in the microwave without it drying out, whether this is reheated or raw chicken. The most important thing to remember is to cover the chicken and sprinkle water and oil on it before cooking.
Always ensure that it has reached the safe temperature of 165 degrees Fahrenheit before consuming.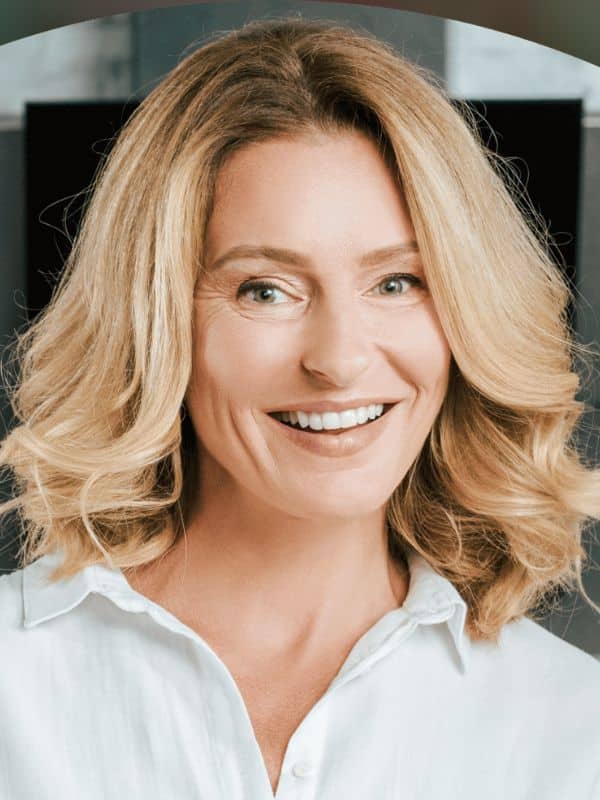 Hi all! I'm Cora Benson, and I've been blogging about food, recipes and things that happen in my kitchen since 2019.