Whether you're a keen culinary school student or a Michelin Star-awarded chef, the ability to handle a set of knives appropriately is paramount to the development of your cookery skills.
But, considering the selection of products currently available, you don't need to break the bank to help you master the art of the knife.
After all, expense doesn't necessarily equate to superiority in the kitchen.
You live in a commercial world.
Don't be fooled by brand names and prestige which will see you empty your wallet paying over the odds – make durability and reliability your priority!
The solution?
You need a knife set with a variety of blades to withstand cutting, chopping, and slicing at any level.
Narrowing down the best picks is a tedious task.
That's why I've done the hard work for you!
Read on to discover a list highlighting several applicable knife sets currently being offered on the market.
Best Knife Set For Culinary School Students
Since you've taken the time to read this article, I'm assuming that you are on the hunt to master the art of the culinary knife.
Well, you've come to the right place!
If you're seeking a durable knife set that will provide effective working support for even the most uncoordinated culinary artist, the Mercer Culinary Genesis Knife Block Set will be perfect for you.
The first thing to mention about this set is that it offers six corrosion-resistant blades including paring, utility, chef's, bread, and a 6-inch boning knife.
They're stored in an easy-to-clean tempered glass block, meaning there is much less risk of the product breaking over time.
Its full tang construction ensures near-perfect balance when in use. By increasing the weight of the knife in this way, it enhances user control and makes chopping that much swifter.
Also, its taper-ground edges and non-slip grip handles provide added stability for activities including cutting and chopping whilst simultaneously helping to maintain the sharpness of the blade for longer.
Pros
Corrosion Resistant – will not discolor easily.
Easy to Clean – dishwasher and hand wash safe. Easily stored to ensure cleanliness between uses.
Balanced – full tang means increased user control.
Cons
High Carbon – blade may be at increased risk of brittleness.
Cuisinart is currently one of the most respected brands catering for kitchen essentials, and it's easy to see why.
This Cuisinart Knife Set is the ideal product for any kitchen and is useful for even the most inexperienced culinary artist.
The style-conscious set contains six essential tools: a chef's knife, slicing knife, bread knife, Santorum knife, utility knife, and paring knife.
With these reliable easy-to-use stainless steel blades and a colorful non-stick coating to prevent cross-contamination from occurring, these knives are built for longevity.
Whilst many competitor knife sets are manufactured with user safety in mind, Cuisinart takes it one step further.
All knives have matching blade guards and sturdy ergonomic handles which not only prevents unnecessary injury, but also allows them to glide through even the toughest of vegetables with ease.
So, whether you are messily cutting into a block of cheese or dicing up an onion, this knife set has the blade for you!
Unfortunately, these knives don't work to their fullest capacity when exposed to extreme temperatures.
Though the blades will glide easily through the food, there may be some slight color transfer. However, this is not a common cause for concern.
Pros
Sharp Blade – allows for quick and clean cuts through any food item.
Colorful – separate knife colors prevent cross-contamination during the food preparation process.
Durable – built to withstand many different uses.
Well-Constructed – ergonomic handles prevent unnecessary slipping of the hand, decreasing the risk of injury.
Cons
Color Transfer – caused by exposure to extreme temperatures.
In today's society, appearance is everything.
From interior home décor to the way you present yourselves in public, you are consumed by stylistic intention.
So, what could be better than a set of vibrantly colored kitchen knives?
This Farberware Resin Cutlery Set contains several pastel-inspired serrated knives (ranging from a chef's knife to a paring knife) – all with a matching aesthetic blade cover that further safeguards the health and safety of the chef.
Much like other products on the market, its stainless steel blades are manufactured with a resin coating to prevent food from sticking to the knife which provides a more efficient and pleasant culinary experience.
And because the ergonomically designed handles ensure the knives are comfortable and precise, it's easy to see why this would be a perfect set for a culinary student looking to begin their studies.
Pros
Sharp – can make swift cuts in an efficient way.
Stick Resistant - food doesn't stick to the knife.
Easy to Clean - dishwasher and hand washing safe.
Cons
Partial Tang – may break off at bolster over time.
Do you require a knife block for the ultimate culinary experience? Look no further!
The Chicago Cutlery Essentials Knife Block Set has all the vital cutting instruments you could ever want or need for efficient slicing and dicing.
This 15-piece value set can't be beaten.
It contains a utensil for every culinary occasion ranging from a 3-inch peeling knife to six (6) serrated steak knives, meaning you won't have to dedicate a large amount of time to sharpening and honing your blades!
Made of a durable high-carbon stainless steel, its taper ground blades guarantee precise cuts whilst simultaneously resisting issues of rust and discoloration.
Though the Chicago knife block set lends itself to a more minimalist aesthetic, the triple steel rivets securing the handles to these blades – and the increased durability of the instruments - more than makes up for it.
Pros
Durable – strong high-carbon steel.
Easy to Grip – extra security.
Multipurpose – offers a wider range of instruments for all culinary needs.
Cons
Blunt – blades aren't as sharp as competitor products.
One of the most eye-catching elements of this product is its effective simplicity.
This Living Kit Knife Set is yet another great choice if you're actively looking for a minimalistic yet still efficient product.
With a variety of instruments available ranging from the classic chef's knife to a peeling knife, it's no wonder many people have flocked to this brand!
These knives have been constructed using taper ground technology which not only ensures a precise cut every single use but also means that the set itself is easy to re-sharpen.
Each knife also contains triple-rivet handles for a comfortable, secure grip that'll help to take the pressure off even the most experienced chef.
A consideration of safety within the manufacturing process has resulted in a low maintenance rubber wood block in which the blades can be safely stored when not in use, limiting the risk of injury.
Overall, the set is fit for any area of counter space and is also aesthetically pleasing to the eye.
Pros
Easy to Clean – hand wash knives and block when needed.
Sturdy – well-constructed instruments due to triple-rivet handles.
Easy Storage – strong, spatially aware wooden storage block.
Cons
Potential for Dulling – made using HRC Of 52-55 meaning blades may be softer than competitor products.
If you're seeking a more sophisticated addition to your kitchen, the J.A. Henckels International Statement Knife Block Set is the answer to your problem.
This stylistic knife set does exactly what it says on the tin: it makes a bold statement both in its ergonomic construction and its minimal aesthetic design.
Featuring striking brushed stainless steel caps and a gorgeous, wood base knife block, these blades will sit perfectly on even the drabbest countertop.
The J.A. Henckels blades are designed with maneuverability in mind to help achieve ultimate culinary precision.
This is made possible by its lightweight full tang design and satin finish that repels food and, as a result, makes the food preparation process as effortless as lifting your pinkie finger.
Additionally, comfortably situated triple-rivet plastic handles provide balance and control, whilst the finely honed precision blades ensure durability and sharpness over a longer time period.
This is perfect for those with an unsteady hand.
It also features scissors and a sharpening steel rod. So, with convenience in mind, you'll definitely be getting your money's worth by purchasing this set.
Pros
Stylistic – steel caps and wooden knife blocks add an aesthetic element to the product.
High Quality - maneuverable full tang ensures that the blades are equipped to last.
Comfort Grip – sturdy handles mean the user has full control.
Cons
Corrosion – product must be properly looked after to maintain blade quality.
AmazonBasics 14-Piece Kitchen Knife Set is another very popular and versatile knife block set available for purchase online.
With over 7,051 global 5-star ratings, it's one of the most highly rated products in this field.
The blades are manufactured using top-quality high-carbon stainless steel to ensure accurate and precise results.
Much like other products in this list, these knives feature triple-rivet POM (polyoxymethylene) handles that offer a source of strength and comfort in the kitchen.
Wooden handles are more prone to discoloration and breakage, so the use of plastic handles means the blades in this product are built for longevity.
On top of that, they have a non-stick coating which means they are more hygienic and are easier to clean - so you won't have to spend an eternity cleaning up after yourself!
Pros
Easy to Clean – both pinewood block and ergonomic handles are wipe-clean, making for an easy and hygienic culinary experience.
Non-stick Coating – makes food preparation and clean-up much easier.
Plastic Handles – creates a more balanced and controlled experience.
Cons
Brittleness - high carbon percentage means an increased risk of brittleness. Blades must be frequently sharpened to prevent dulling.
Pretty, practical, and professional. Whether you're a culinary student or the most qualified chef, the Home Hero set is adaptable to your exact needs and requirements and is suitable for all.
The set contains a knife for any task, whether a chef's knife or a carving knife, and is encased by a simple yet elegant acrylic stand.
The 360° degree view allows you to easily showcase your knife set whilst keeping it squeaky clean between uses.
A non-stick sleek Teflon blade coating and matching black ergonomic handles allow you to confidently slice and chop without the risk of scratching the blades or causing injury to yourself.
Plus, you'll be working in style – what's not to love about that?
Unlike other products on this list, it features a two-mode knife sharpener meaning dull blades are a thing of the past.
Pros
Professional – minimalistic yet eye-catching appearance will appeal to a wider audience.
Non-stick Coating – Teflon coating will ensure the durability of the product.
Adaptable – suitable for amateur and professional chefs alike.
Cons
Limited Blade Choice – the product doesn't offer a huge range of blades.
The Master Maison kitchen knife set is a very well-equipped kit for the classic home cook.
Designed to ease the strain of home cooking, this stunning Master Maison knife set truly has something for every situation.
Several key stand-out features of this product include a knife sharpener and a set of eight (8) steak knives, made from German-forged high-carbon stainless steel.
In addition, its black triple-riveted handles guarantee balance between the knife and its user to simultaneously minimize risk of injury and maximize precision.
Ultimately, this set has the biggest aesthetic appeal than others included in this list.
The simplistic yet complimentary black and silver knife block design is the perfect accompaniment to any kitchen counter.
Pros
High Quality – created on the advice of professional chefs, it's no wonder the set offers such a great product.
Aesthetics – universal design and color scheme appeals to a wider audience.
Inclusive – includes tools for both amateur and professional chefs.
Cons
Sensitive – must be cautious when cleaning to avoid marbling on the blade's surface.
Buyers Guide
There's a simple reason to invest in a durable knife set, and that is to obtain a more well-rounded skill set.
Put clearly: a sharp knife is a safe knife.
And the following information will give you the heads up on what to look for when you budget for your next knife set.
Blade
Control and balance are key ingredients to achieving painless food preparation.
A large majority – if not all – knife sets contain carbon-infused stainless steel blades.
Though these are generally very durable and corrosion-resistant, they can become brittle if not taken care of properly.
Safety
Much like other kitchen apparatus, knives can be hazardous if they aren't handled properly.
Many modern knife sets feature large blocks – made of wood or acrylic – where the instruments can be safely stored 'handle up' when not in use.
This also preserves the quality of the blade and minimizes the risk of injury.
Some knife sets also include locking blade guards which are useful for travel or general cutlery drawer storage.
They help to prioritize user safety by reducing the risk of puncturing the skin (especially the hands and torso) which, in a professional or educational culinary environment, is of the greatest value.
Though, if knives are balanced and used appropriately, there are very few health and safety issues that need to be seriously considered.
Regardless, it won't do you any harm to be alert and aware when operating such instruments.
Eight fingers and two thumbs intact are always preferable!
Frequently Asked Questions
How do you stop stainless steel blades from tarnishing?
Keeping your blades in tip-top shape is vital, and there is a simple way to achieve this.
Each knife must be hand washed using washing up liquid and warm water, thoroughly rinsed, and then immediately dried using a cotton towel.
By removing excess water from the knife in this fashion, any chance of corrosion is removed – meaning the blade remains intact.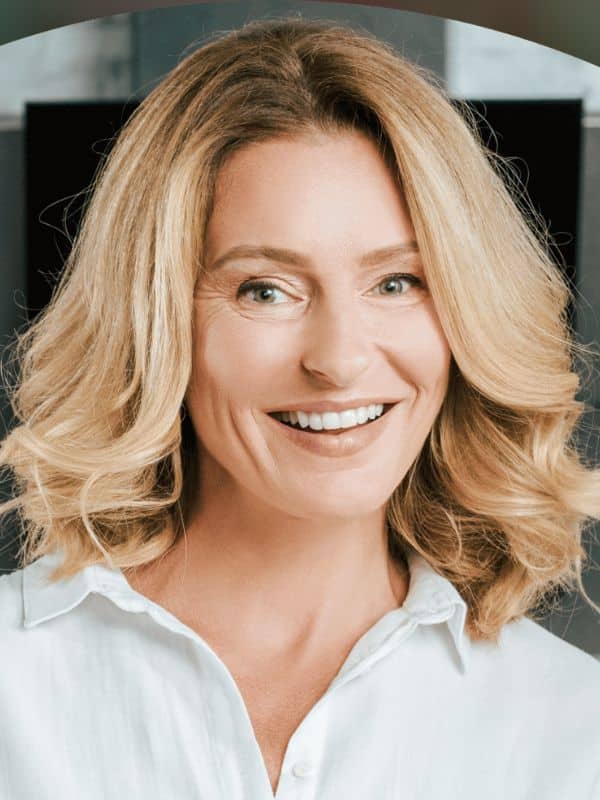 Hi all! I'm Cora Benson, and I've been blogging about food, recipes and things that happen in my kitchen since 2019.