Fried food is delicious. In fact, almost anything can taste good if it's fried properly. However, fried food has a reputation for being unhealthy. This is largely true with food fried in partially hydrogenated soy oil or corn oil, which is what most restaurants use.
Many home cooks also use these oils because of their ubiquity. However, many home cooks are now switching soy oil or corn oil for healthier choices like sunflower oil.
Sunflower oil is low in harmful fats, while having a healthy amount of unsaturated fat. In fact, the Centers for Disease Control and Prevention (CDC) have even designated sunflower oil as a heart-healthy oil.
Read on to learn more about the benefits of deep frying with sunflower oil.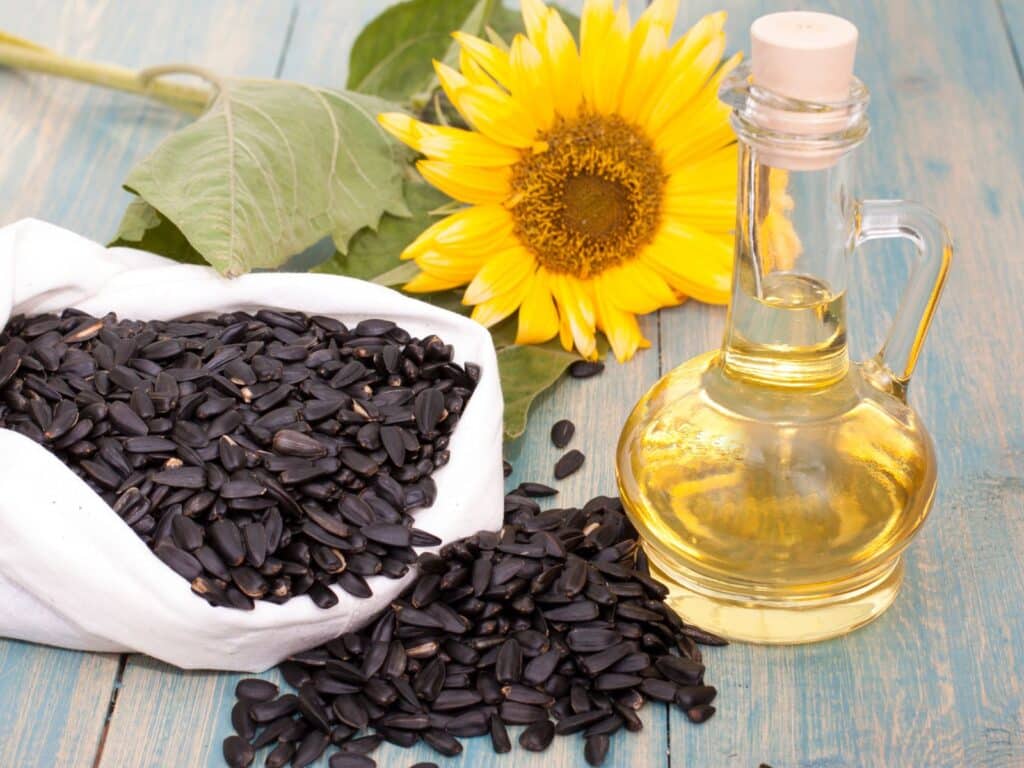 Nutritional Information about Sunflower Oil
Sunflower oil provides numerous nutritional benefits. As previously mentioned, it has a relatively low saturated fat content while containing healthy unsaturated fat. In fact, it has two types of unsaturated fat: polyunsaturated fats and monounsaturated fats.
Polyunsaturated Fat
The main source of polyunsaturated fat in sunflower oil is linoleic acid. It can lower your risk of heart disease. In fact, many experts recommend that people consume up to 10% of their daily caloric intake in the form of linoleic acid.
Monounsaturated Fat
The main monounsaturated fat in sunflower oil is oleic acid. Oleic acid can increase your levels of HDL, which is commonly known as the "good" type of cholesterol. Oleic acid can also reduce your risk of heart disease.
Vitamin E
Vitamin E is the most important vitamin found in sunflower oil. Vitamin E has a number of beneficial health effects. It has been shown to reduce the risk of Alzheimer's Disease. Also, the high levels of Vitamin E in sunflower oil can help you avoid the nerve pain associated with Vitamin E deficiency.
Tips for Safely Deep Frying with Sunflower Oil
Deep frying with any kind of oil can be dangerous if you aren't careful. Thankfully, the Department of Agriculture has published an article containing tips for safe deep frying with sunflower oil or any other cooking oil. Home cooks that follow these tips will not only be safer, but they will end up with tastier food.
One of the most important safety tips for deep frying is to avoid overcrowding the fryer basket. While it is certainly tempting to make as much delicious sunflower oil-fried food as possible, this can cause the oil to overflow. As the oil is extremely hot, it can cause severe burns. Also, cramming your fryer basket too full can lead to undercooked food.
You also should not add food or touch the frying basket while it is submerged in the sunflower oil. This could cause a splash, which could cause burns if any of the hot oil touches your skin.
You should always keep a close eye on the fryer will it is in use. This is especially important if you have pets or small children around. Not only is this important for safety reasons, but it will also help you avoid overcooking your food. Deep frying is a very quick process, so it is easy to overcook food so badly that it becomes inedible. In the worst case scenario, food left too long in the fryer may even catch fire.
Let deep-fried food cool off for several minutes after it has finished frying. It will be extremely hot. Try too eat it too soon can cause burns.
Comparing Sunflower Oil To Other Cooking Oils
Sunflower Oil
Sunflower oil is healthier than other types of cooking oils. It adds a slightly nutty flavor to any food fried in it. This means that it works best with sweet and savory foods. Sunflower oil's price is about average for cooking oil.
Canola Oil
Canola oil is one of the most popular cooking oils. It does not change the flavor of the foods fried in it. Also, it is quite cheap.
Cottonseed Oil
Cottonseed oil is one of the lesser-known alternative cooking oils. While it is often used in restaurants, it is not carried by many grocery stores. This means that it is not particularly popular for home frying. It is also relatively pricey.
Peanut Oil
Peanut oil has a nutty flavor that is stronger than the nutty flavor of sunflower oil. It is popular among both restaurants and home cooks. Peanut oil is also quite affordable.
Soybean Oil
Soybean oil is another option that is very popular among restaurants and home cooks. It does not add any flavor to food, so it can be used to fry anything. Soybean oil is also one of the cheapest cooking oils.
Substitutions for Sunflower Oil
Canola Oil
Canola oil is a great substitute for sunflower oil. It does not add any flavors, so you may want to try canola oil if you do not like the nutty taste of sunflower oil.
Peanut Oil
Peanut oil is a great option if you do like the nutty taste of sunflower oil. It is cheaper than sunflower oil. However, it is also less healthy.
Soybean Oil
Soybean oil is cheap and versatile. However, it is unhealthy. It is one of the partially hydrogenated oils frequently used by fast-food joints.
Deep Frying In Sunflower Oil is Worth a Try
If you want to try deep frying food at home, sunflower oil is worth a try. It is healthy and affordable. It also imparts a delicious nutty flavor which goes well with a variety of foods.