Air frying has become quite popular because it allows home cooks to make delicious fried food that is much healthier than traditional fried food. However, older air fryers did have their limitations. Air fryers without racks had very limited capacities. This forced home cooks to prepare fried foods one piece at a time.
Air fryers with racks make it much easier to prepare a large amount of fried food at once. Many new air fryers even have multiple racks. This allows cooks to fry different foods at the same time without changing the flavor of each item.
Keep reading to learn more about the advantages of using an air fryer with racks.
Advantages of an Air Fryer With Racks
Air fryers with racks have several important advantages over old-fashioned air fryers without racks. The biggest advantage for most cooks is that the inclusion of racks allows them to fry a much larger amount of food at one time. In fact, an air fryer's capacity can be doubled or even tripled if it has racks.
While many home cooks focus on the increased capacity of an air fryer, the fact that the racks allow cooks to fry different foods without mixing flavors may be just as important.
Many home cooks find that their air fryer can handle all the food they need to fry, but that frying differnet foods at the same time results in muddled flavors. Racks allow you to simply put different dishes on different racks. This will keep the flavors from getting mixed together.
Using air fryers, including air fryers with racks, is healthier than traditional frying. This is because air fryers use far less oil during the frying process. This oil is the source of the added fats in fried foods. Some types of cooking oils used in traditional frying, especially partially hydrogenated oils, have extremely high trans fat content. Trans fat can cause heart disease.
Wihle these are the main benefits of using an air fryer, there are a couple of side benefits. The racks allow the air fryer to be used as a dehydrator. Also, the racks make the air fryer easier to clean out.
The Top 3 Air Fryers With Racks
Ninja SP301
The Ninja SP301 is one of the most versatile air fryers with racks on the market today. In fact, it is actually a countertop oven with many additional functions besides air frying. It can also bake, broil, toast and dehydrate food effectively. It even includes a bagel setting and two different pizza settings to make cooking common food items more conveneint.
The Ninja SP301 can cook relatively large food items, such as a two-pound roast, very quickly. This is because it uses both heated air and a burner. Both the heated air and the burner can reach temperatures of up to 500 degrees. This allows the Ninja SP301 to cook items 65% faster than a traditional electric oven.
Instant Vortex Pro
The Instant Vortex Pro, like the Ninja, offer many functons in addition to air frying. It can also bake, broil, dehydrate, roast, and broil foods. According to the manufacturer, the Instant Vortex Pro requires very little preheating time.
One of the most unique aspects of the Instant Vortex Pro is its selection of accessories. Many air fryers simply come with a rack or two. Not only does the Instant Vortex Pro come with two racks, it also comes with a rotisserie basket. This basket could also be used for french fries or similar foods.
Cleaning an air fryer can be a pain. However, the Instant Vortex Pro makes it easy, as many of its components can simply be washed in the dishwasher. The door even comes off so it can be cleaned thoroughly.
CHEFMAN Multifunctional Digital Air Fryer
Like the other two air fryers on this list, the CHEFMAN air fryer is quite versatile. In addition to air frying, it allows you to bake, dehydrate, and roast foods. The CHEFMAN air fryer has 17 presets to make cooking common foods much easier. It also features an easy-to-use touchscreen for when you need to use custom settings.
Unlike many air fryers, which only have one or two racks, the CHEFMAN air fryer has three racks. This allows you to cook three differnet dishes at once. This model also includes a rotisserie spit and a rotisserie basket.
Tips & Tricks for Using an Air Fryer With Racks
Using an air fryer with racks is relatively straightforward. In fact, many cooks find it easier and safer than using a traditional fryer. However, there are a few tip that you should follow to get the best results.
One of the most important things that you should do when using an air fryer is to clean it regularly. Air fryers can get dirty quickly. Food particles can result in flavor contamination and even refuced cooking efficiency.
Also, you should preheat the air fryer before starting to cook. This is because most air fryers will take a few minutes to get up to temperature.
FInally, you should flip your food in the middle of the frying process. This ensures that it gets cooked evenly on both sides.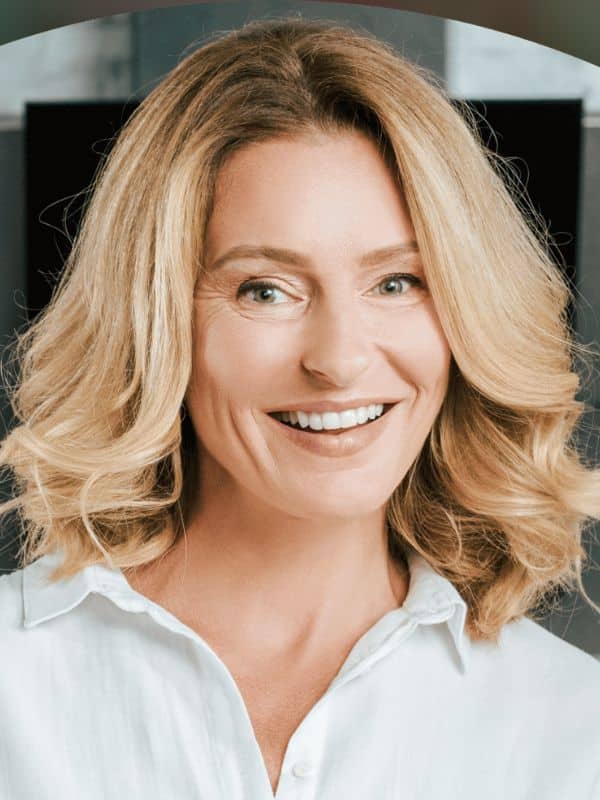 Hi all! I'm Cora Benson, and I've been blogging about food, recipes and things that happen in my kitchen since 2019.