I have yet to conquer a real recipe for fudge. (I love to eat it, though!)
Whenever we visit a cute little town with those adorable little boardwalks, I always try the free samples of fudge and spend a lot of time figuring out which kinds to purchase.
Despite my affection for such a sweet treat, I've never really made any on my own. Until I met this recipe for caramel fudge.
It is the easiest fudge recipe you'll ever find – some stirring and a microwave, and that's about it! Doesn't get much easier.
But it's sweet and decadent so it only comes out when I pull out my recipes for Christmas sweets. A little bit of this sweet treat goes a long way. So, while it only makes one little pan, cut it into small pieces – you only need a bite of this decadent caramel fudge to be satisfied.
About 12 years ago my other half and I were living in New Brunswick working at a small Christian school run by a local church. We were good friends with the pastor and his wife and kids. I often exchanged favorite recipes with her and this is one of those recipes.
This caramel fudge is quick to make and a real favourite for sweet fudge fans. You'll be surprised at how easy it is to make.
Makes: 16 pieces
Tools & Equipment
Square pan
Wooden Spoon or Spatula
Microwavable Bowl
Sealable Container For Storing
Measuring Cups
Mixing Bowl
Ingredients
½ cup butter and extra for greasing pan
1 cup brown sugar
¼ cup milk
¼ tsp vanilla
3¼ cups confectioners' sugar, sifted
½ cup chopped nuts (I really like pecans)
Instructions
Step One
Start by measuring out all of your ingredients as this will make the process much quicker and easier as you go along.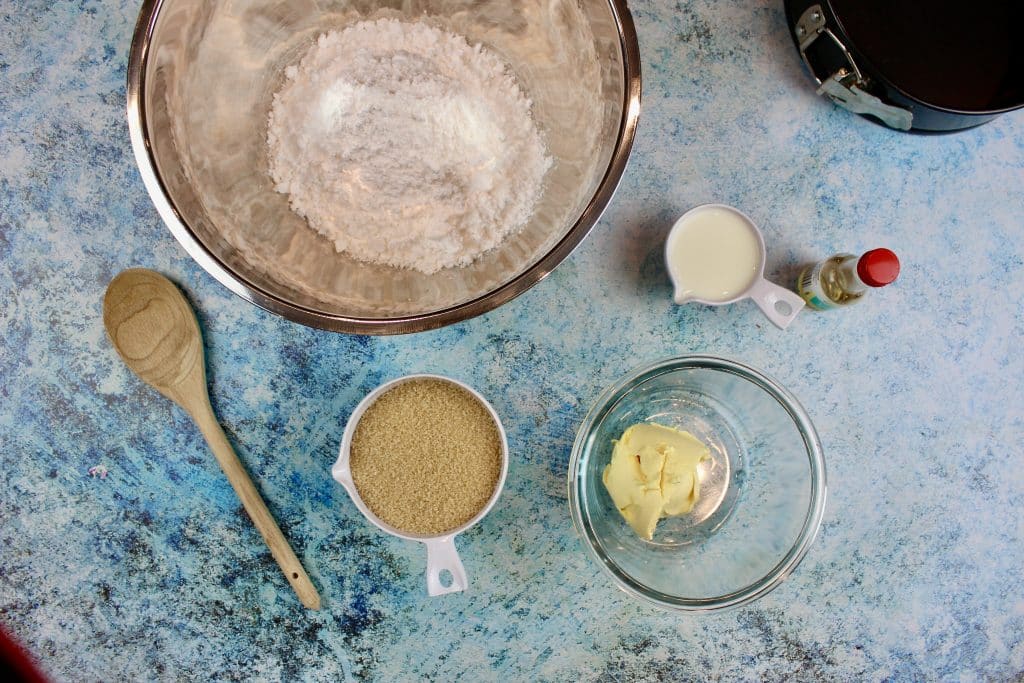 I often find I am an extremely messy baker so getting everything set out and ready to start helps save time on cleaning up afterwards!
This is also great if you are getting any little hands involved and helping you in the making process as you can make sure no extra ingredients make it into the fudge recipe.
Step Two
Find your square pan, a square pan is better than round but use what you have otherwise.
Grease your pan with butter using a piece of paper towel or using a brush and melted butter.
Step Three
Place your 1/2 cup of butter in a microwavable bowl and melt in the microwave. This will take seconds so don't walk away from your microwave.
Once it has melted remove the bowl from the microwave, make sure you use a oven mitt as the container will be hot to touch.
Step Four
Mix in the brown sugar to the melted butter and bring together well. Place back into the microwave for 2 minutes. Remove using a oven mitt again as the container will be hot.
Once the butter and sugar mix has been taken out of the microwave place on a heat pad or board to stop the heat transferring to your counter.
Using your wooden spoon, keeping the mixture moving as it cools. Keep the mixture moving as this will release the hot mixture at the bottom to enable it to cool quicker.
As you mix and move the spoon around you will start to feel the mixture get heavier and harder to move around. This is the sauce getting thicker.
Step Five
Once the mixture is thicker and you are happy with the consistence add in the milk and vanilla flavouring.
The mixture before adding the milk and vanilla should be liquid but a thicker syrup look and should slowly drip from your spoon.
Mix in the milk and vanilla well to combine the ingredients, make sure there is no separation in the mixture.
Step Six
Depending on how big your bowl is you might want to transfer your mixture to a larger bowl and slowly sift in the powdered sugar.
I suggest sifting it in to make sure no clumps form when mixing the mixture. You want to create a thick creamy texture, it may feel a little harder to move as it thickens with the powedered sugar being added in.
Keep mixing until all the ingredients are mixed well and there are no lumps left in the mixture.
Step Seven
If you wish to add nuts, you would add those now. Making sure you are mixing them well into the mixture. You can add any nuts that you want into the mixture.
Walnuts or pecans usually work well with the flavours of the fudge.
Step Eight
Pour the mixture into your greased pan, making sure you haven't left any in the bowl.
Let the mixture sit and spread naturally into place. Place in the fridge and chill for one hour.
Step Nine
Remove from the refrigerator and cut into squares. Drizzles on skinny chocolate or your favourite chocolate to add in another flavour or if you want to add a little more decadence to the dessert.
Serve up and enjoy!