I'm a big fan of easy cooking. One of the easiest methods? No bake cooking (I have some fab easy no bake recipes)!
In the summer, when it's hot, I prefer to cook on the grill as much as possible. Dessert usually consists of ice cream or some other no-bake treat, because I really don't like to heat my oven up when it's already like an oven outside!
If you're like me, you will appreciate this addition to your no-bake repertoire – No-Bake Breakfast Cheesecake.
I love these even more as they are so simple to make and quick to do, so you don't have to spend your day in the kitchen and spending all your time preparing meals.
I also love the simplicity of the ingredients for this recipe, all items you can find in your supermarket and so you can spend less time shopping and more time doing the things you enjoy.
No Bake Breakfast Cheesecake
This twist on the classic cheesecake is a perfect recipe for those who like to prep & cook their meals on the weekends, those following the Trim Healthy Mama (or other low carb or low sugar) plan, or for those who are just looking for good ways to add protein and cut sugar from their diet.
While there is no cream cheese (a staple in cheesecakes!), this has all the creamy texture but absolutely no guilt – it's the perfect breakfast food.
With a combination of strawberries and cottage cheese, you are getting lots of health benefits from the berries and a power-packed punch of protein to keep your satisfied well into the afternoon.
While it's not a true cheesecake, it will make you feel like you're having a special treat for breakfast!
No Bake Breakfast Cheesecake Recipe
The first thing you'll want to do for this no-bake breakfast cheesecake is to grab my simple no-bake pie crust recipe.
But, instead of pressing it into a pie pan, you are going to sprinkle it into 6 small mason jars, creating our 'graham' style crust, for the bottom of our cheesecake.
Alternatively, you can use any container you have to hand, I love using my glass containers from Ikea which are easy to use for a number of things and make up a great portion for both me and my husband for breakfast.
You can even use this recipe to create new and exciting flavours such as chocolate, lemon, blueberry and more!
It creates a great base recipe and so you can change out the strawberry for other flavours to make your breakfast a little different each day.
Serves: 6 servings
Tools & Equipment
Measuring Cups
Blender – I love using my [amazon link="B079GT8JF2″ title="NUTRiBULLET 600 Series"/] as it's both fast and easy to use!
Glass container or mason jars with lids
Spoon
Ingredients
16 oz fresh strawberries
1- 16 oz container cottage cheese
1/4 cup xylitol
2 scoops stevia, optional
1 teaspoon vanilla
1 Tablespoon gelatin
1/4 cup warm water
Instructions
If like me you dread breakfast because it is a time you often find yourself making bad choices or not eating anything as its the first meal of the day and you need to get moving and get on with your day.
I often find myself heading to the bread items or cooking up some kind of fried breakfast and while that is okay for the odd breakfast, it isn't good for me daily.
So I loved creating this recipe as it is both good for me and taste delicious! I like to bulk make these and store them up to 7 days in the fridge for an easy, handy and tasty breakfast.
Step One
To get started you will want to make the base using the no-bake pie crust recipe. I found only using 2/3 of the original butter content helps give the cheesecake base a more light and biscuit like texture.
Simply mix 1 1/2 cups almond flour with 2/8 cup of melted butter and 1/4 cup of xylitol along with a pinch of salt.
If you want to make your base even more light, fluffy and true to a cheesecake texture don't melt your butter and rub it into the flour with your finger tips.
This makes a more crumble like texture which makes it nicer and easier to sprinkle into the base of your jar. Pack it is fairly tight to make sure it is in place before adding your cheesecake top.
Step Two
Start by cutting the tops off your strawberries and cutting them into 4 pieces, this will help them break up quicker and easier in the blender.
Once chopped up place into the blendar along with the cottage cheese. Blend well to create a smooth and creamy texture.
Step Three
Measure out the xylitol and add to the blender. Add in the vanilla for taste and stevia.
Blend well again to make sure the ingredients are well mixed.
Step Four
Measure out the gelatin and dissolve in the warm water. Once dissolved, add to the blended mixture.
Blend again well to make sure all the ingredients are well mixed and there are no remaining lumps or clumps.
Step Five
Once you are happy with the blended mixture take it over to your jars or glass dishes and pour on top. Make sure you don't fill them to the very top as you need space for a lid to go on top.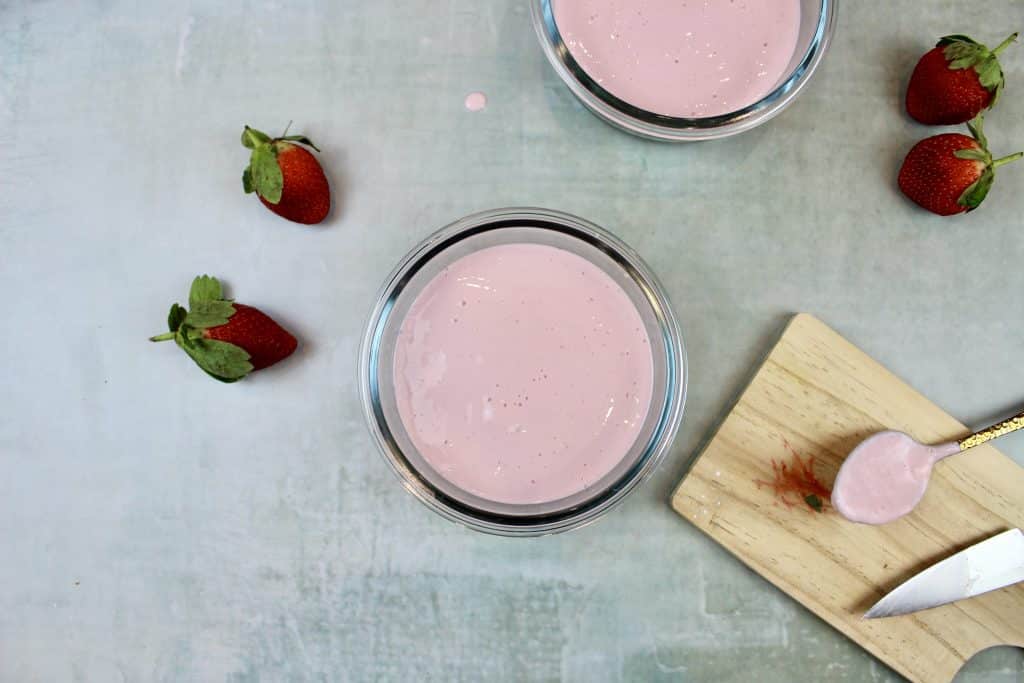 Add lids to each container and place on shelf in the fridge to set overnight.
Step Six
Once set overnight, pull out one jar in the morning and enjoy!
For a really decadent breakfast add a little whipped cream to the top.