Air Fryers like many other appliances can be fairly heavy and take up a lot of space. If you are looking at getting an air fryer but not sure you can have it out on your kitchen surface you might be looking at storing it away while not in use. This can save you a lot of space and help keep you kitchen tidy but remember you have to pull it out and pick it up again to put it away.
No, air fryers do not all weigh the same. The weight of an air fryer is usually dependent on the size, type of material, and capacity. You would typically go for more giant air fryers so you can cook foods that can cater to your household or individual needs.
In this article, I am going to talk about the weight of an air fryer, how it can affect you and what you can do to counteract it.
How Much Do Air Fryers Weigh?
Different air fryers have varying weights, and your choice depends on what you're looking for or what your kitchen can accommodate.
We've established that the weight of air fryers has a relationship with the size and material and capacity to discuss the various weights with these metrics. Many wrongly assume that the best way to get a good guess of an air fryer's weight is by the size.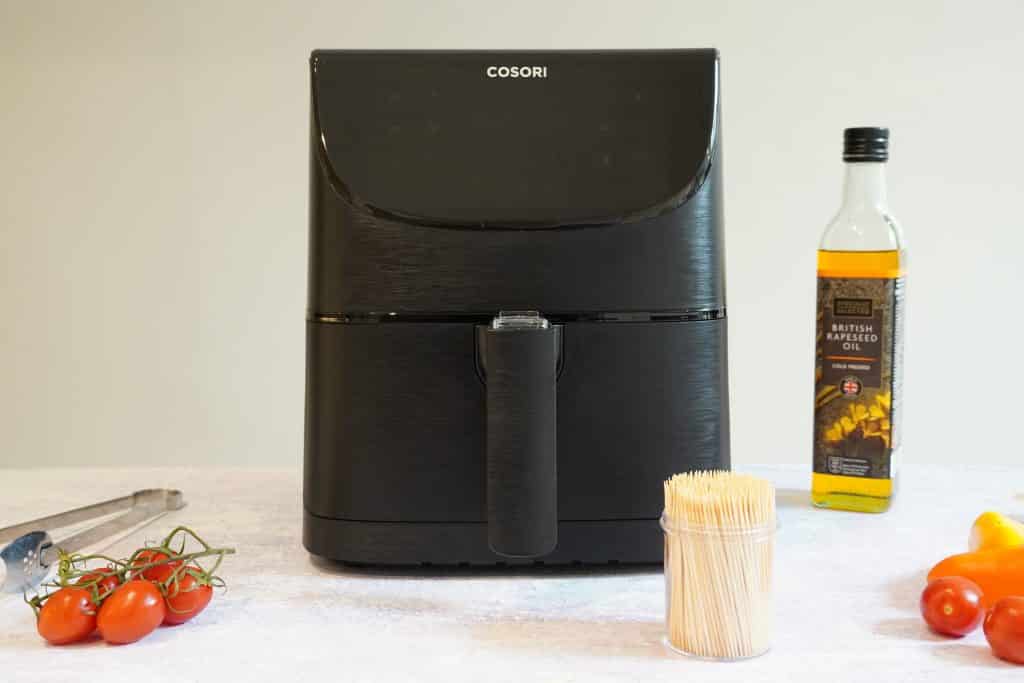 However, you will see below that size is just one factor and could be wrong sometimes, and some bigger and medium-size air fryers could weigh less than smaller ones.
Air fryers typically fall into three categories of size depending on their uses: for individuals, recreational vehicles, dorm rooms, etc.
Small Air Fryers
These have a volume that ranges between 1 and 2 QT for the lower range and can only cook a maximum of two chicken breasts at once. These air fryers are sufficient for an individual who only needs to cater for themselves or two people at most. Some other air dryers in the upper range of this category can accommodate 2-3QT sizes, making them great for 4-6 chicken wings at one go.
Some great examples of these air fryers are:
Phillips Airfryer with Turbo Star: This compact equipment allows you to cook with baking, frying, grilling, and roasting. If you love tofu, this is excellent equipment to use and will produce amazing results.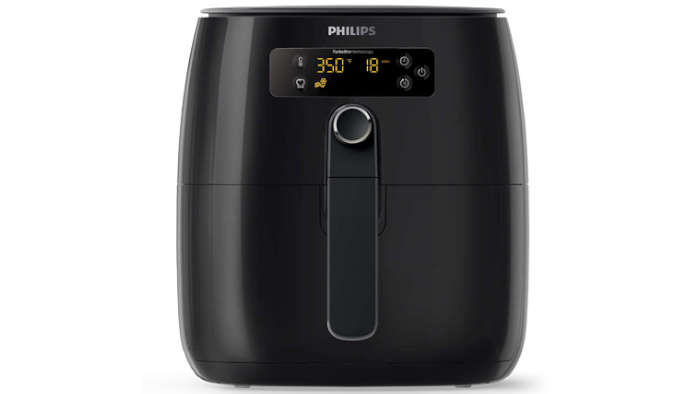 Some great benefits of this product are that it does not need cooking oil, cleaning is easy, and BPA, so there is a reduced risk of contamination. It weighs 15.08 pounds.
Bella Electric Hot Air Fryer: This air fryer allows you to check your food and monitor it while cooking.
There is also a 1500-watt circular heat technology that ensures your food cooks quickly without making a mess. It weighs 9.73 pounds.
Dash Compact Air Fryer: To make sure you enjoy your fried foods without compromising on your health, this Dash Compact Air Dryer has rapid air circulation technology.
Great benefits of this product include improved cooking options, ease of use and cleaning, and intuitive touch screen controls. It weighs 5.8 pounds.
Medium Air Fryers
These air fryers are bigger than the last category and are typically ideal for more prominent families. The lower range has sizes from 3-4QT, and these sizes wouldn't have enough space to accommodate a chicken whole. On the higher degree of fryers, these could be between 4-6QT, and they can cook food comfortably for a family of 5.
Most air fryers fall in the 3-5 Quartz range and are the most common in houses. Some examples are:
NuWave 36001 Brio Air Fryer: The NuWave 36001 gives ample space for preparing dishes for the whole family.
Some other key features of this air fryer are that it is excellent for different types of food, no need to flip the food while cooking, and it is convenient. It weighs 8.01 pounds.
Secura Electric Hot Air Fryer: Are you looking for a durable air fryer that also has many extra features for preparing quality meals?
Secura Electric is a great contender. It weighs 10.3 pounds.
Chefman TurboFry: This has many features like the 60-minute automatic timer that helps you shut off power once your food is ready.
You can prepare all your favorite meals in this air dryer with little or no oil. It weighs 9.98 pounds.
Ninja Air Fryer: This is an air fryer that allows you to cook healthy without oil. Apart from frying, you can also bake, grill, and roast your favorite meals.
With a capacity of 4QT, you should have no trouble transferring food from it. It weighs 13.3 pounds.
Large Air Fryers
If you're looking for air fryers that give the most significant space, they're in this category. Large air fryers are those that have spaces of at least 6 QT. Some have up to 16 QT, which is ideal for large families, gatherings, and festivities. Some examples of these air fryers are:
Cosori Air Fryer: The Casori Air fryer has a recipe book in the box.
It comes with up to 11 cooking presets to give you better flexibility with meals. It weighs 16.85 pounds.
Ultrean Air Fryer: Washing the parts of this air fryer is easy as they are dishwasher safe. This device has an easy-to-use touchscreen control that you can use to navigate the eight presets of food available. It weighs 13.12 pounds.
GoWISE USA GW22621: GoWISE is a popular name in the home appliance department that consistently delivers quality.The meals from this air fryer are healthy with low-calorie levels.
If you love deep-fried snacks, this is a perfect fit for your kitchen. It weighs 15.83 pounds.
Summary Table With Weights of Air Fryers
| | | |
| --- | --- | --- |
| Name | Class of Air Fryer | Weight (Pounds) |
| Phillips Airfryer with Turbo Star | Small | 15.08 |
| Bella Electric Hot Air Fryer | Small | 9.73 |
| Dash Compact Air Fryer | Small | 5.8 |
| NuWave 36001 Brio Air Fryer | Medium | 8.01 |
| Secura Electric Hot Air Fryer | Medium | 10.3 |
| Chefman TurboFry | Medium | 9.98 |
| Ninja Air Fryer | Medium | 13.3 |
| Cosori Air Fryer | Large | 16.85 |
| Ultrean Air Fryer | Large | 13.12 |
| GoWISE USA GW22621 | Large | 15.83 |