I love quick & easy no bake recipes. One of our favorite no bake snacks? Energy bites are definitely at the top of our list.
I can sneak in some healthy ingredients and all my daughter knows is that she's getting a tasty snack (that she can help make). We've tried a few different variations and have more to discover. With this easy no bake energy bites recipe you can find a new favorite flavor combination.
Quick & Easy No Bake Energy Bites
Just like my no bake oatmeal cookie recipe, I love to use these little energy bites to add some healthy ingredients like flax or chia seeds.
And, to keep me inspired to try new combinations I made a simple chart that I can use to create lots of new varieties of easy no bake energy bites.
These are super easy to make and don't need any special equipment or tools just a mixing bowl, spoon and a container to store them in afterwards. We love making these as a family as everyone can choose what they want to include in their no bake energy bites.
Letting children choose their own extra ingredients and flavours really helps them make good healthy choices along with being creative and enjoying the food they helped create.
They also love getting stuck in and helping make these for everyone. We love being able to snack on these through the day, while out exploring or even just as a quick pick me up.
The Basics Of No Bake Energy Bites
There are so many recipes for no bake energy bites floating around (I love this energy bite recipe) and I've drawn from quite a few of them for inspiration.
I wanted a basic recipe that I could use as a jumping off point for adding in lots of different ingredients and flavors.
The base is made with just 3 ingredients – 1 cup of oatmeal, 1/2 cup nut butter, and 1/3 cup honey (and of course, there are lots of variations for these ingredients too!).
To the base ingredients, you'll add 1 1/4 cups of additional ingredients. . Then you'll add a 1/2 cup of extra add-ins and some flavouring (I chose butterscotch chips for my add-in and a teaspoon of vanilla for some flavour).
Easy No-Bake Energy Bites
You can add in a number of different ingredients to the base ingredients to add new and exciting flavours. Making this a great way to get everyone in the family involved with the flavours and process.
Tools & Equipment
Mixing Bowl
Measuring Cups
Rubber Spatula or wooden spoon
Container
Baking Tray
Parchment Paper
Ingredients
1 cup of oatmeal
1/2 cup nut butter
1/3 cup honey
1 1/4 cups of additional ingredients – I chose to use protein powder, flaxseeds and chia seeds.
1/2 cup of extra add-ins and some flavouring – this can be chocolate chips and a teaspoon of flavouring such as vanilla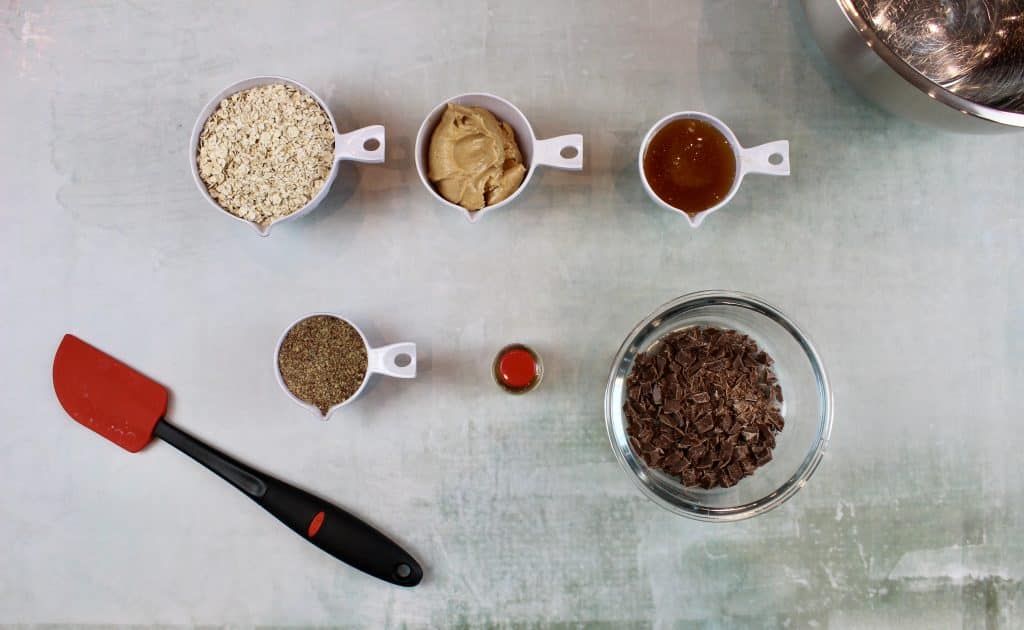 Instructions
The best way to combine the ingredients together and get an even spread of all the flavours and ingredients in each bite is to combine them into one bowl.
Step One
The first step is to measure out all of your chosen ingredients including the set ingredients and the extras that you want to add in for flavour. I chose to add in 1/2 cup of flaxseed and 1 cup of crushed chocolate pieces.
Measure out into bowls ready to pour into your bowl or simply measure everything out straight into your mixing bowl.
Step Two
Using a rubber spatula or wooden spoon stir everything together. Keep scraping the edges and moving the mixture round to make sure all ingredients are thoroughly mixed.
If you are using small cups use a smaller spatula to scrape every last bit out of the container to use. Mix thoroughly together until it becomes a ball of mixture. It will get harder and harder to mix together as the ingredients condense and combine.
Step Three
Once mixed, cover your mixing bowl with a cloth or piece of plastic wrap and place in the refrigerator for 1-2 hours. Or until you feel the mixture is chilled.
Or you can separate into balls and place onto a tray or in a container ready to place into the fridge. I love using glass containers as they are versatile and easy to clean.
Step Four
Remove the mixture from the refrigerator and start making the mixture into balls. Use a spoon or ice cream scoop to portion off the mixture.
Roll in between your hands to create the rounded shape, as the mixture is chilled it shouldn't be too sticky. To counteract this you can rub a little olive oil on your hands to stop the mixture from sticking.
Place on a try or in a container for storing. You can also use parchment paper to stop the mixture from sticking to the base of your container or tray.
Step Five
Remove from the fridge and serve! Enjoy these tasty treats to give you a boost of energy and to keep you fuller for longer.
Keep the energy balls in a sealed container for up to one week or in your freezer for 3 months.